Building and Upholstering a Chair
Create a Beautiful Piece of Furniture for the Home, Part One
When the tree fell on our house, it took all of our living room furniture with it. Everything was exposed to the elements because of a gaping hole in the roof and eventually became a wet, moldy mess. We had to get rid of everything. Now that the front room of the house is nearing completion, it is time to replace some of the furniture that was lost. I've started with building and upholstering a chair modeled after one I saw at Target. It's an armless chair with an angled back, and the only difference between the two chairs are the legs… The chair from Target has round legs, and I built square, tapered legs.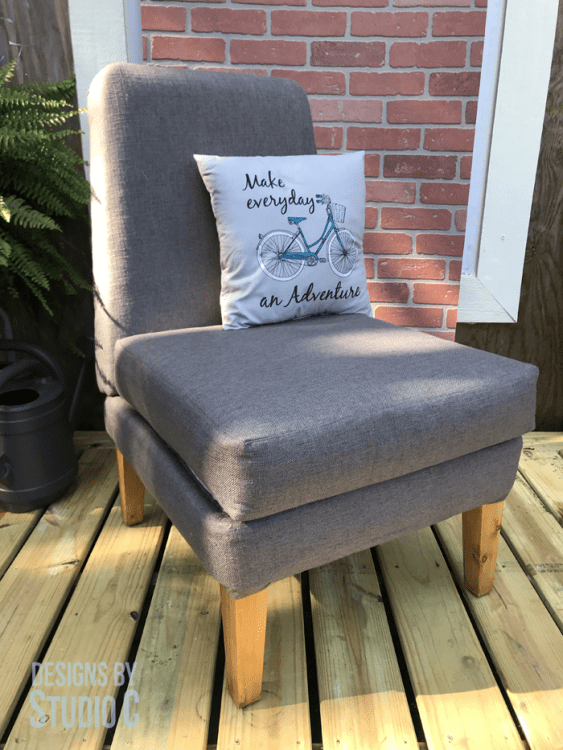 The chair measures approximately 38″ tall x 22″ wide x 25″ deep. The seat height is a traditional 18″ high, including the seat cushion. The seat cushion is 5″ thick, and the seat support is created out of Elasbelt which is alternative to metal springs.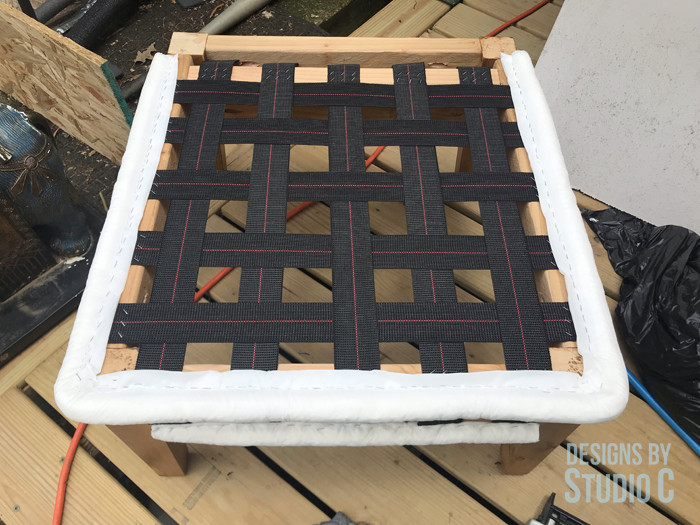 This chair is very easy to build and upholster. The back frame is angled, and will require cutting a compound angle (a different angle on two adjoining faces) on the bottom of the back frame. The frame is then secured to a piece of plywood with a sort of tongue on it that will be inserted into the seat frame and secured with 1/4″ lag screws once the back is upholstered. The tapers on the seat legs are completely optional. I chose to taper the legs so they wouldn't look as chunky but they can be created however desired! All of the materials can be purchased online and I will provide links (affiliate links).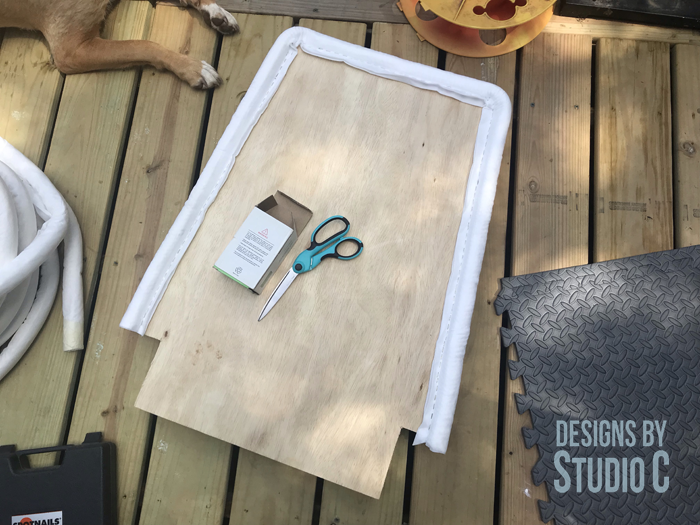 This tutorial will be split into four parts: Part One (this post!) is the materials list and notes about the project. Part Two is about building the frame, Part Three will be about upholstering the back and the seat base, as well as putting the two together, and Part Four will be sewing the cushion cover for the seat. There will also be a separate plan for a matching ottoman later on down the line.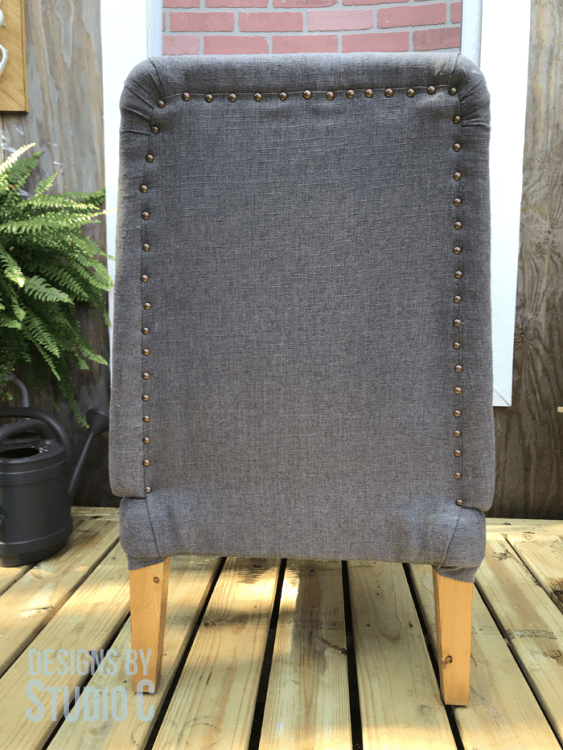 Materials:
For the Frame:
For the Upholstery:
Kraft paper or newspaper
Spray Adhesive
Decorative Upholstery Nails
25 yds. of Edge Roll
10 yds. 2″ Elasbelt for Seats (and a stretcher tool)
Poly Foam Cot Pad – 1″ x 27″ x 76″ (Seat, back & seat frame)
Poly Foam Chair Pad – 5″ x 24″ x 24″ (Seat – will have to be cut down)
3 yds. of upholstery fabric
Tools:
Drill with the appropriate bits for the screws (T30 Torx or Star Drive bit may be needed for the Lag screws)
Pocket hole jig
Hammer
Table Saw
Compound Miter Saw
Jigsaw
Stapler and staples (I highly recommend a pneumatic upholstery stapler, especially if you're upholstering a lot of furniture!)
Lumber for the Frame:
1 – 1×6 at 8′
1 – 2×2 at 8′
1 – 2×4 at 8′
1 – 2′ x 4′ sheet of 3/4″ plywood
Cut List for the Frame:
Legs – See Step One in Part One
2 – 2×4 at 17-1/2″ – Front & Back of the Seat Frame
2 – 2×4 at 19-3/4″ – Sides of the Seat Frame
1 – 2×4 at 19″ – Support for the Back
2 – 2×2 at 25″ – Back Frame (angles will be cut into each end of these pieces – see Step Five in Part One)
1 – 2×2 at 14″ (with a 7° miter cut in each end) – Back Frame
1 – 3/4″ plywood cut to fit frame – Back (see Step Seven in Part One)
1 – 2×4 at 17″ cut into a wedge with a 10° bevel
Cuts for the fabric will be listed in the steps for the upholstery.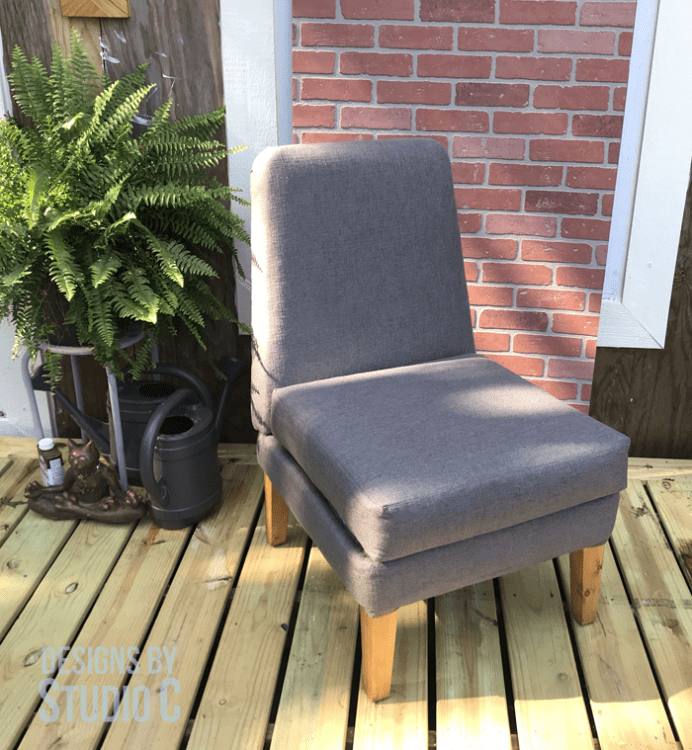 Stay tuned for Parts Two, Three and Four to complete the building and upholstering of a fabulous chair!
Originally posted 2019-06-30 19:14:46.