Building an Upholstered Sofa, Part One – The Outline
Build an Upholstered Sofa
Finally! We are at the point in rebuilding the house where I can build more furniture for the front room… A tree fell through our house in 2018, destroying our living room, dining room and kitchen, as well as all of the furniture in those rooms.
I designed an upholstered sofa to fit our new, narrow space. It is easy to build, and is built from the frame up similar to the upholstered chair I previously built. The frame uses straight off-the-shelf boards with DIY legs. The seat uses Elasbelt in lieu of springs, and the back is foam covered with upholstery batting. The seat cushion is 5″ high density foam wrapped in batting, and is a separate piece. There are no arms on the sofa: I felt it would take away from the width of the room, especially since it is custom built for a narrow space (7 feet wide).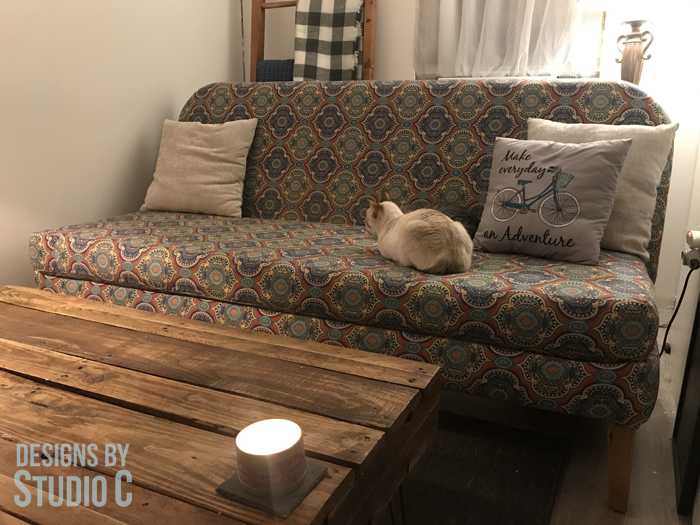 The sofa measures 6′ long with a 24″ seat and is approximately 3′ tall at the back which reclines at 15°. It is extremely easy to build and upholster. Though it isn't exactly a "cheap" build, it is custom and can be upholstered in a fabric of your choosing!
I used cotton duck fabric in a bright medallion type of print. Canvas, cotton duck and other medium weight upholstery fabrics are excellent choices!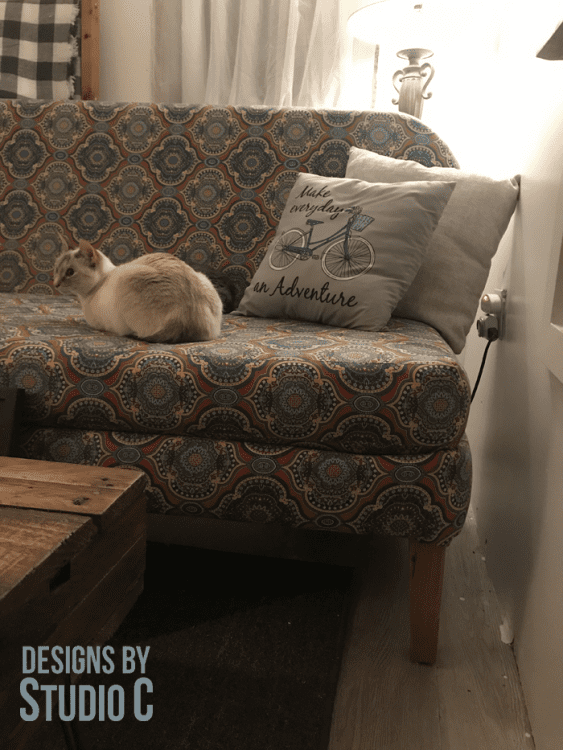 Tools:
Materials & Supplies:
Lumber:
1 – 1×6 at 8′
3 – 2×2 at 8′
1 – 2×3 at 6′
3 – 2×4 at 6′
1 – 4′ x 8′ sheet of 3/4″ plywood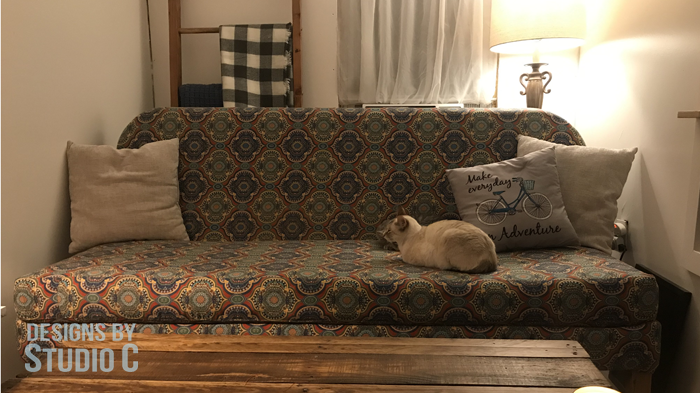 Like the upholstered chair, this project to build an upholstered sofa, will be split into four posts: Part One (this post) will outline the material, supplies and tools, Part Two is the plan to build the frame, Part Three will focus on the upholstery, and Part Four will show how to make the cushion. Any questions? Leave a comment below!
Originally posted 2019-10-17 08:00:09.