A Quick Fix for a Broken Water Fountain
I love my two Buddha water fountains. The sound of the water is so cool and calming! I made a huge mistake by leaving water in one of them for the winter. We had ice, snow and freezing temperatures, and guess what… The fountain froze and the bottom broke completely out of it. I had an idea and gave that water fountain an upgrade so that it's still useful. Plus, it looks pretty awesome and I fixed it using things I already had around the house!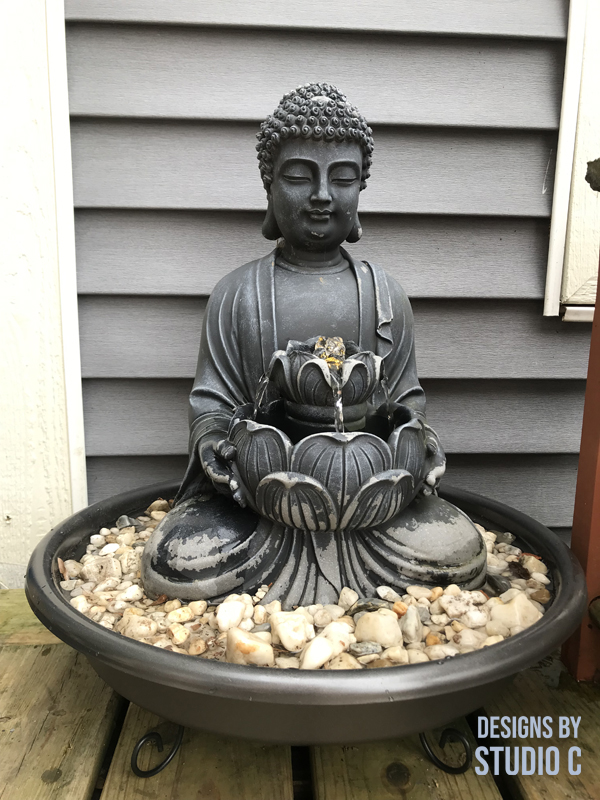 The Fountain
I bought the fountain a few years ago and have used it regularly during the warm weather. It looks especially pretty at night because there is a small light that shines through the water. So when the bottom broke out of it, I was disappointed – but not for long!
A New Base
Since the pump for the fountain is located inside the "statue", I really just needed something that it could sit in and still be under water. I had a really large saucer for a planter that I used for a giant palm plant I used to have. It was really dirty and needed an upgrade – stat!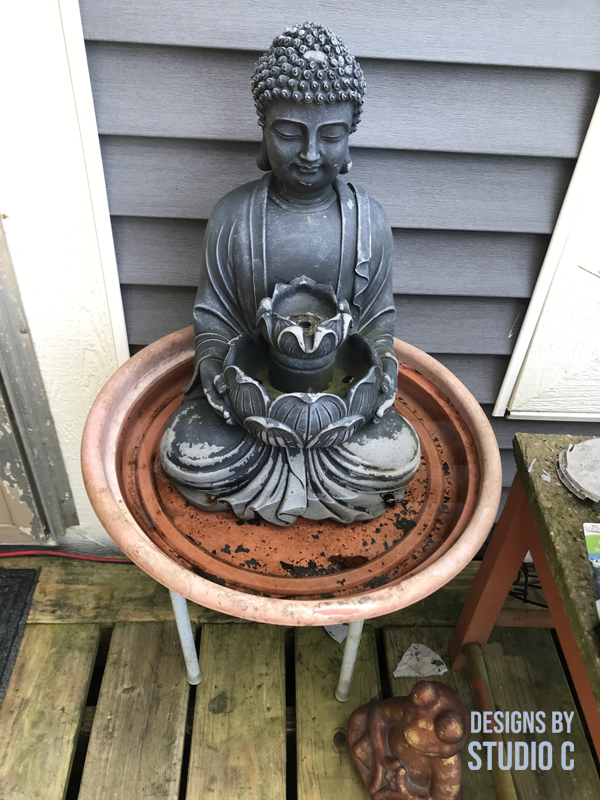 After giving it a good scrubbing and letting it dry, I spray painted the outside and the lip on the inside using spray paint. I like using RustOleum 2x spray paint because it sticks to virtually any surface!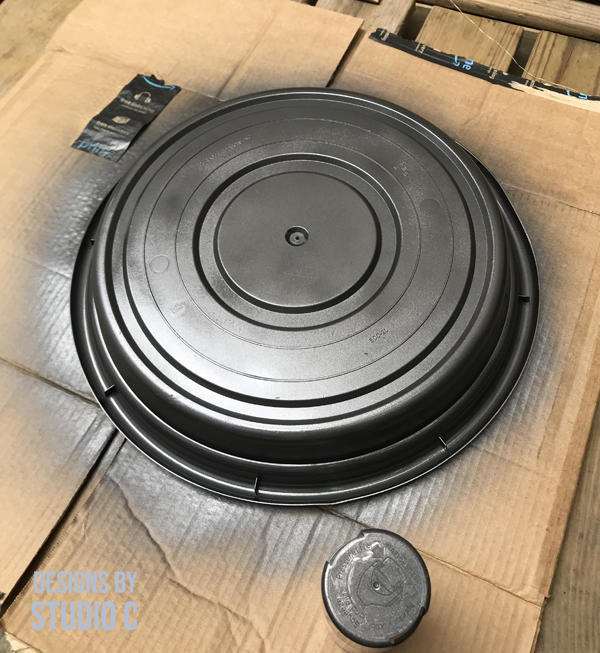 Buddha Himself
I was going to paint the fountain statue as well, but my husband suggested not doing that. He liked the look of the finish peeling and chipping off… He said it gave a weathered vibe to Buddha. The fountain statue got a good scrubbing anyway which chipped the existing finish even further.
Putting It All Together
I set the fountain inside the saucer, then added white river rock around the fountain to take up the space and add a decorative look. It is glorious! I then added water using a watering can (because I'm too lazy to unwind the hose) and plugged the fountain in.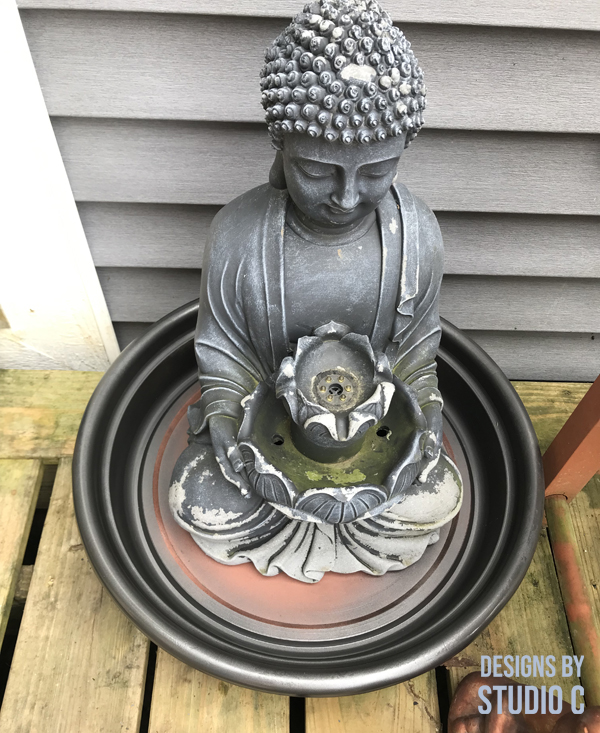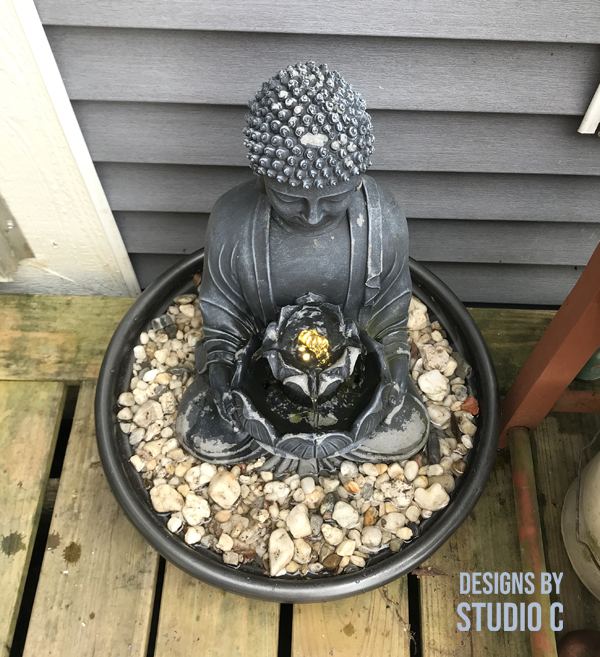 I love the water fountain upgrade! Like I said in the beginning, I already had everything I needed at home so this awesomeness didn't cost a cent!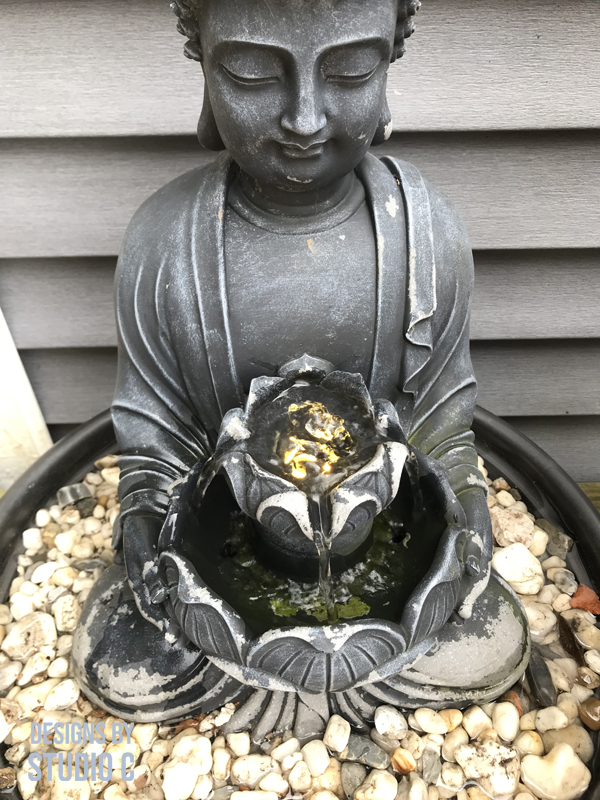 Have you done a fabulous upgrade around the home using items you already had on hand? I'd love to hear your ideas! Leave a comment below!