DIY Hearth for a Propane or Gas Heater
Keep Floors Safe When Using a Heater
When the tree fell on our house, we lost our central heating system. A friend of ours suggested a vent-free propane heater  and we love it! It heats the entire space nicely. In order to keep the floor safe, the heater needed something underneath so that it wasn't sitting on the bare floor so I created this DIY hearth for a propane or gas heater that is easy and inexpensive to build. It keeps the floor safe just in case and looks fabulous, too!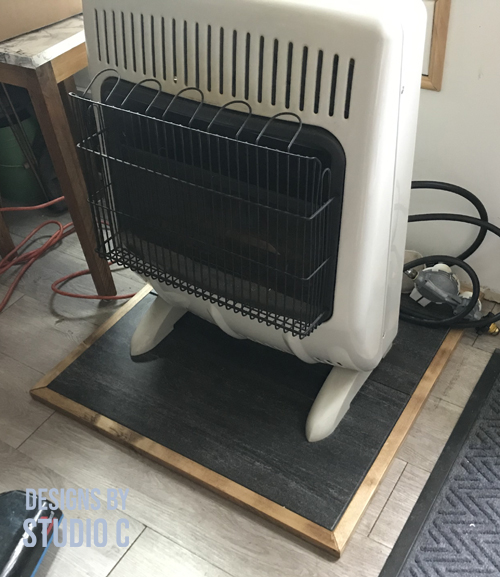 Materials:
Two 12″ x 24″ porcelain floor tiles
2″ brad nails (<–affiliate link!)
Wood glue
Sandpaper (80, 120 220 grits)
Finishing supplies
Lumber:
2′ x 2′ sheet of 1/2″ plywood
4 – 3/4″ square dowels at least 26″ long
Notes About the Project:
There is no cut list – tiles vary in size and will have to be measured before cutting the pieces from the wood!
I did not use dowels for my project – I ripped 3/4″ strips from scrap boards then mitered the edges. Always use the proper safety precautions when going this route!
Sand all of the pieces before assembly
The tiles do not need to be glued down but you can if you want!
Step One
Lay the tiles side by side and measure them. They probably don't measure exactly 12″x 24″! The piece I cut for mine measured 23-5/8″ x 23-3/4″ which included a little bit of wiggle room for the tiles. Cut the base piece from the 1/2″ plywood.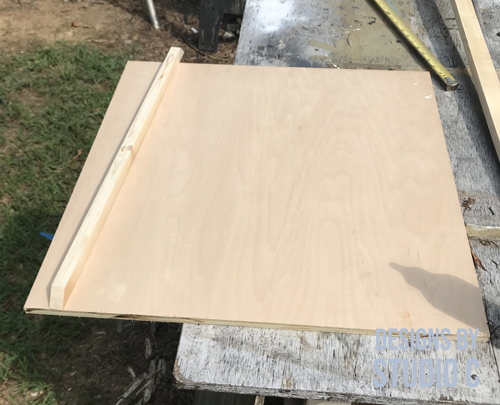 Step Two
The trim on my mini hearth for the propane heater has mitered corners. Mitered corners aren't too terribly hard to do. I start with one side and cut a 45° miter in the end then hold it along the piece I'm working on and make a mark to cut the miter on the opposite side. Once the piece is cut, I apply glue and use a brad nailer to pin it in place. Then I move to the next side and repeat the process. This gives me perfectly fitted miters at the corners all the way around.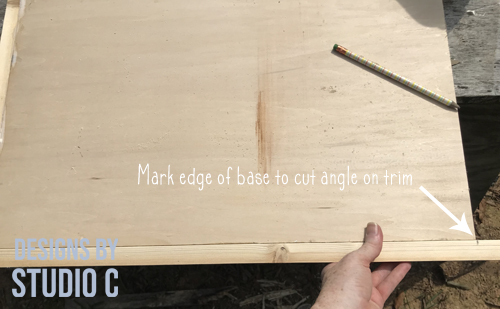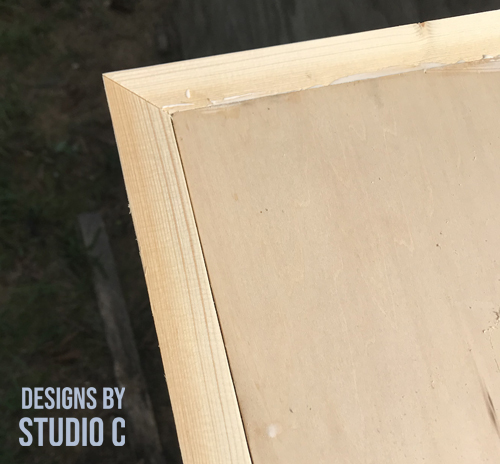 Of course, if mitered corners aren't your thing, butt or square joints will work equally well!
The trim pieces are secured to the outside edges of the base, flush on the bottom and stand about 1/4″ above the base on the other side to make a sort of frame around the tiles.
Step Three
Finish as desired, then insert the tiles. I stained the trim and left the base plain since it will never be seen. The tiles fit perfectly inside without effort.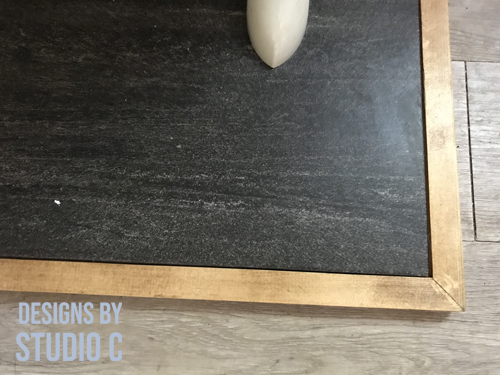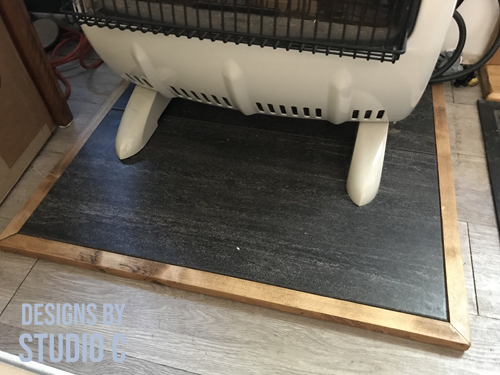 Have questions about the DIY hearth for a propane or gas heater? Leave a comment below!