Kitchen Remodel Part 1 (Before)
About a year ago, I thought it was time to remodel the kitchen. I'm not sure what possessed me to do it while I was finishing school, working, and raising teenagers… The allure of new cabinets, countertops, and a new layout? Most definitely! New paint? Absolutely! More space and a few more drawers? Yes, and yes!!
The existing kitchen was plenty big enough but because of the way it was originally designed, no more than one person could be in there cooking or cleaning at a time. Take a look at the floor plan before…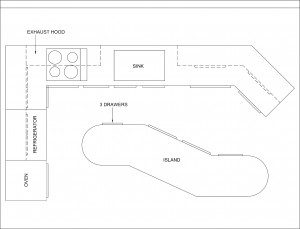 I only had three drawers in the whole area and a ton of wasted space. I have a "thing" about wasted space!! So, I set about gutting the entire kitchen down to the drywall which included removing a "decorative" wall.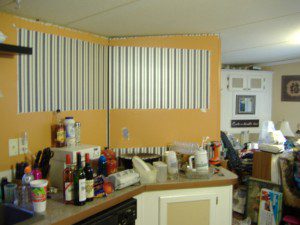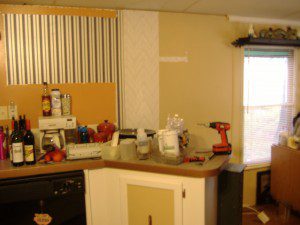 I repainted the entire kitchen. I built the cabinets one at a time and installed them as I went along, starting with the corner cabinet. (I wrote a post about that cabinet – Good lesson there!) I kept the sink and the faucet because they were only a year old.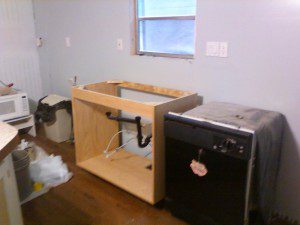 I have a cabinet-mounted oven so I removed that cabinet as well. I'm very tall and the oven was located too low for me. When I removed it, I found a surprise behind it… A giant hole where electrical wiring was brought through for an outlet instead of run through the stud as it should have been. I'm not the greatest at drywall-patching, either, but it didn't come out too bad!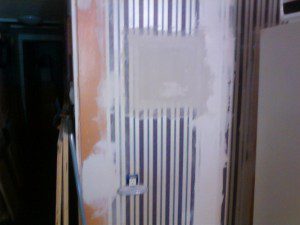 The island was a "Z" shape which made it difficult to maneuver around. I removed it but left the wiring for the outlets located on each end. I only had to move the wiring on one side because the island would be a different shape.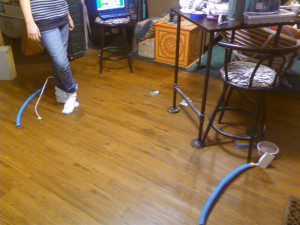 In the next post, I'll show how the kitchen looks now! Any questions? Leave a comment below!
Originally posted 2012-04-05 08:00:26.