Kitchen Remodeling Essentials
Kitchen Remodeling Essentials: What You Need Before Designing Your New Room
This article, Kitchen Remodel Essentials, was not written by Designs by Studio C but we do agree with the content. Compensated posts like this are what keeps Designs by Studio C able to provide more great DIY and home improvement content, plus free furniture plans!
Great looking cabinets can set the tone for your entire kitchen remodel, but having cabinets with extra functional features is an essential for a truly value-added kitchen renovation. Here are some great functional features that will make your kitchen remodel stand out above the rest.
Gliding Shelves
Shelves that glide out of a cabinet when pulled add to the accessibility of the whole cabinet space. They are especially convenient to quickly access what is stored on the shelf. A handy use of the glide out feature is a small appliance cabinet to make use of a deep and narrow space. A cabinet door that pulls out reveals stacked shelves of appliances like a mixer, food processor, and blender. These handy gadgets can stay out of sight until needed.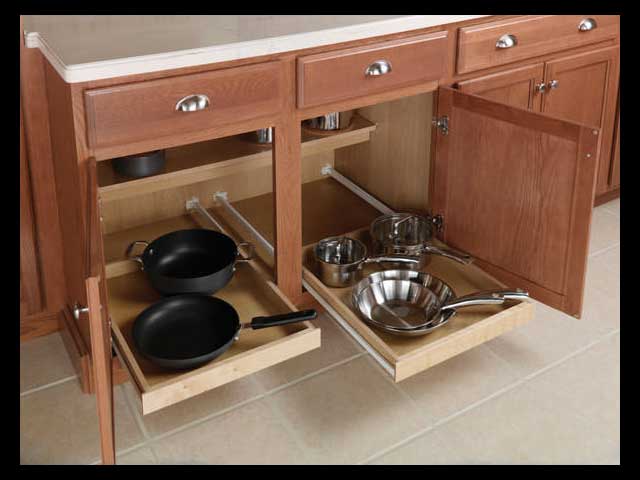 Mounted Wastebaskets
Mounted wastebaskets that glide out of a cabinet space make bending to throw trash away under the sink a thing of the past. The glide out feature can help you make the most of the space by handling a larger waste container than what the under sink space could accommodate. Easy accessibility to your waste container means easier trash bag removal and replacement as well.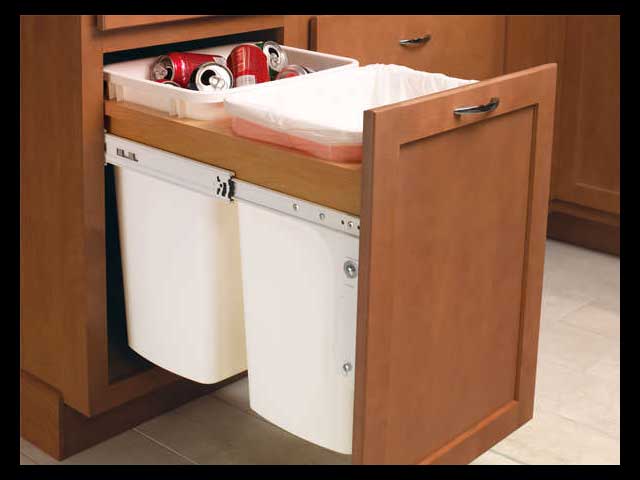 Cookie Sheet Storage
This type of functional storage solution utilizes vertical partitions so that items like cookie sheets, griddles, and even pan lids can be stored vertically. With this type of cabinet storage, everything has its designated place. Storage space is maximized and the time it takes you to find what you need is greatly reduced.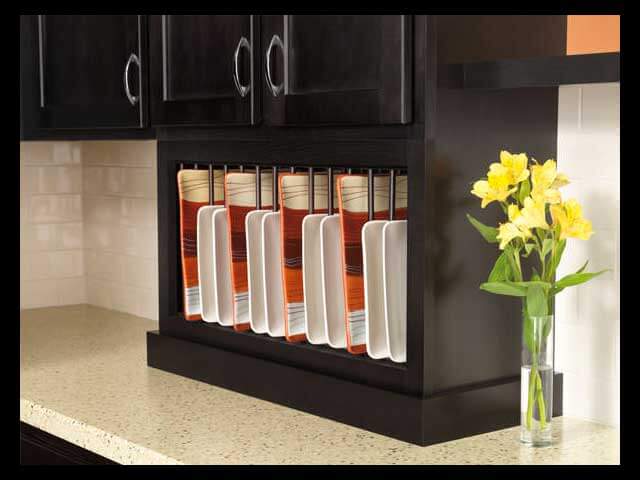 Hanging Pots
How to store pots and pans is one of the main cabinet decisions you will make during a kitchen remodel. If the idea of pots that store hung up by the handles intrigues you but you do not like the clutter of them hanging from a ceiling mounted rail, the cabinet version may appeal to you. A specialized rail system that is installed inside the cabinet allows you to hang out of sight yet within reach. This is a streamlined and quiet solution to clattering around in a traditional cabinet trying to find the pan you are looking for.
Multidimensional Pantry
A way to get the most storage and functionality out of a deep pantry space is to invest in a multitasking multidimensional pantry. This pantry design is the best way to get the most use out of a deep cabinet space. The pantry consists of shelving units on the inside of the doors as well as shelves within the back part of the space. The extra functional feature of this style of the pantry is the tower feature that supports two to three short depth shelving units that pivot on the tower like a store poster display. The direction that you move the towers determines which deep shelf storage you have access to.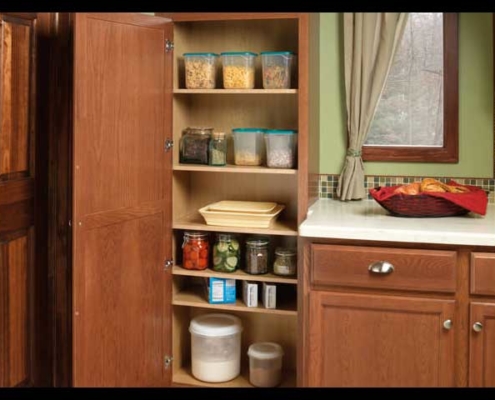 To make your new kitchen especially functional, it is a good idea to do your research and talk to a professional about the latest in kitchen remodel essentials. The clutter you eliminate and the organization you gain can make a difference in your satisfaction with your new kitchen remodel.