How to Make a Wall Hook Organizer with Scrap Plywood
An Easy to Make DIY Organizer
The folks at Purebond Plywood posted a picture of a wall hook organizer made with scrap plywood on their Facebook page. They asked if anyone wanted to create instructions on how to make it and I jumped at the chance – probably jumped a little too high… I'm a Purebond stalker, what can I say?
I have tons and tons of Purebond plywood scraps laying around. Yes, I've been compared to a "hoarder" but only in the creative sense. I'm always saying I might need that small scrap of wood! Anyhoo, Purebond is the best plywood with its gorgeous grain and the best part being that it is formaldehyde free! The plywood is available in a wide variety of species at your local Home Depot. Yay!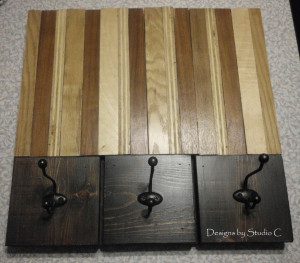 Today, I'll share the steps I used to create this awesome wall organizer!
Materials:
Scraps of plywood –
One for the base (mine measures 17-1/4″ square)
Three squares for the hooks (mine measure 5-1/2″ square and are actually scraps of pine 1×6)
Assorted species of plywood (I used Birch, Oak, and Walnut)
Three metal hooks (<– affiliate link!)
Secure the hook base pieces to the plywood base using glue and 1-1/4″ brad nails. Sand the entire base assembly (especially the edges). I used 60 grit sandpaper, then 100 grit, then 220 grit in order to make everything as smooth as possible.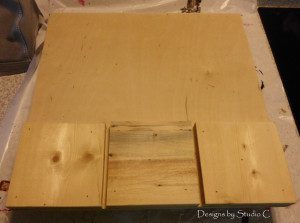 Cut the strips to fit above the hook bases. I got lucky and was able to cut my pieces to length without having to rip them on the tablesaw. Once I was happy with the arrangement, I numbered the bottom of each piece so I could put them back in order!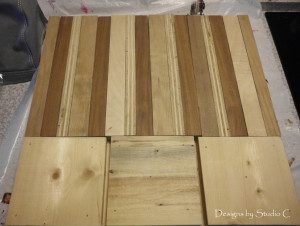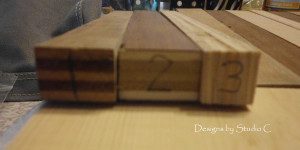 Stain the entire base assembly and let dry. (I used Rust-Oleum Ultimate Wood Stain in Kona.)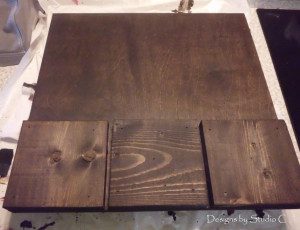 Position the strips using glue to secure, then place a board over the top and clamp them down. This will make sure the strips make contact with the surface so the glue can dry.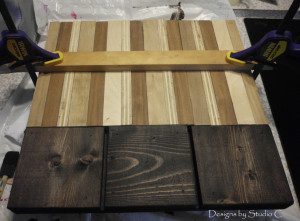 Once the glue was dry, I sealed everything with three coats of polyurethane then attached the hooks. I did not stain the strips – I liked the "natural" look!
Beautiful!! I think this would look fabulous in the bathroom holding towels… Or maybe by the door for backpacks and coats… Or maybe…? Have questions about how to make a wall hook organizer with scrap wood? Leave a comment below!
Originally posted 2013-02-12 08:00:02.