How to Duplicate Curves In Lumber
Whenever I am building something from plans that call for more than one decorative notch or curve, I have a "thing" about them being exactly the same. It drives me crazy if they are not! Is it some form of OCD? Probably… We all have a touch of that somewhere in our lives!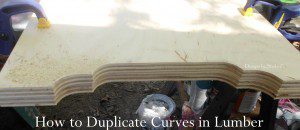 Generally, I avoid such plans because of the OCD-ness until I came up with an idea. Why not cut just one part out with the jigsaw, clamp the piece to the next one that needs to be cut, and use the router to duplicate the curve?  Wahoo! Even if one curve is off a little, they are all off which keeps my brain from obsessive overload!!
Tools:
Jigsaw
Router with Patterning Bit (or Flush Cutting Bit)
Clamps
Here is how it is is done:
Start by drawing the curves and lines on the board that will need to be cut out.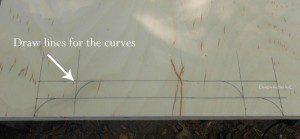 Use the jigsaw to cut it out…

Clamp the piece to the next one…
Use a router with the patterning bit – the bit with the guide bearing at the top is the one I use.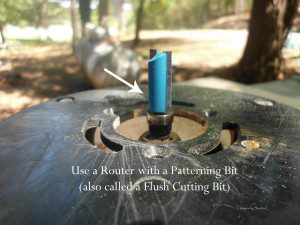 Rout the second board with the guide following the board already cut out by the jig saw.

That's it! I wouldn't have avoided so many great plans if I'd thought of this before!
Until next time,
Happy Creating!!
Originally posted 2012-09-22 08:00:43.