Crate and Barrel Inspired Brey Bookcase
DIY Plans for the Third Piece in the Collection
The Crate and Barrel inspired Brey Bookcase is a very easy build with minimal materials and it will be completed in no time! The bookcase features a wood frame and Plexiglas panels for the shelves, and coordinates nicely with the other pieces. We've covered the Desk, as well as the File Cabinet and now we're on to the bookcase!
Materials:
Five pieces of 3/8″ Plexiglas or acrylic measuring 14-1/2″ x 28″
Finishing supplies
Lumber:
4 – 1×2 at 8′
4 – 2×2 at 8′
One sheet of 1/4″ plywood
Cut List:
4 – 1×2 at 76-1/4″ – Legs
10 – 2×2 at 14-1/2″ – Side Stretchers
10 – 2×2 at 27″ – Front & Back Stretchers
1 – 1/4″ plywood at 27-3/4″ x 74″ – Back
Step One
Cut the pieces for the legs and the stretchers. Drill pocket holes in each end of each piece. Using a router with a 1/2″ rabbeting bit, cut a rabbet (3/8″ deep) in the top edge of each stretcher piece. The rabbets will hold the plexiglas shelves in place. Position the stretchers as shown, then attach in place using glue and 1-1/2″ pocket hole screws.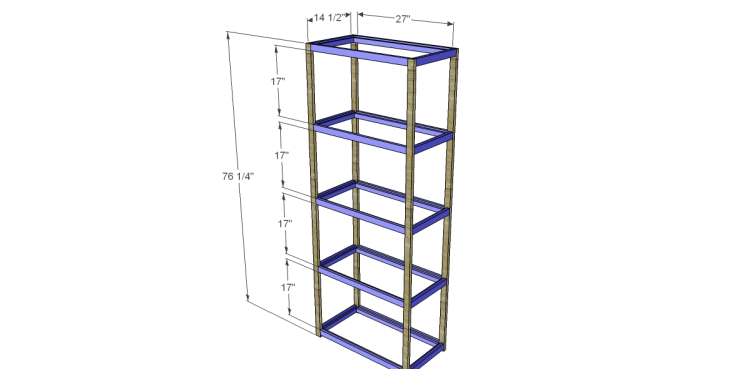 Step Two
Cut the piece for the back. Attach to the back of the bookshelf using glue and 1-1/4″ brad nails.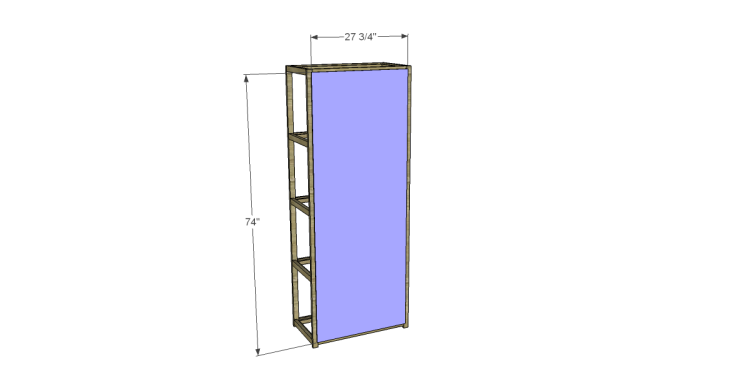 Step Three
Finish the wood frame as desired before adding the shelves. The frame can be stained or painted – your choice! Cut the pieces of Plexiglas to fit in the shelf frames. As a side note, 1/4″ plywood can also be used as the shelf material in place of the Plexiglas.
Make sure the bookcase is secured to the wall to avoid a tipping hazard. An anti-tip kit (<– affiliate link!) is a great way to make sure the bookcase stays upright!
If you've built anything using my plans, please share photos! I would love to feature your hard work on DbSC! Send me an email at designsbystudioc [at] gmail [dot] com!
Originally posted 2012-11-30 08:00:51.