DIY Plywood End Grain Trivets
Make A Useful Project Using Plywood Scraps
We love to cook and really needed new trivets for the kitchen as a place to put hot pans without marring the countertop. I had to throw away the trivets I'd previously made because they got wet and moldy when the tree fell on the house… I have plenty of plywood scraps and since I wanted something with a bit of a modern twist, I combined the two to make DIY plywood end grain trivets. The end grain of plywood is so interesting, especially when pieces are stacked and glued together, then sanded smooth!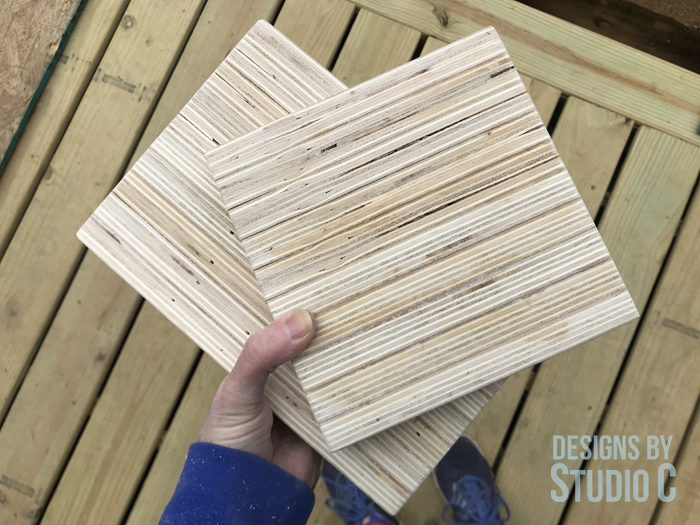 Note these are NOT to be used as cutting boards! The grain is porous which will allow bacteria to settle into the material.
Materials:
Wood Glue
Silicone Brush (to spread the glue) (<– affiliate link!)
Sandpaper
Finishing Supplies
Lumber:
1 – 2′ x 2′ sheet of 3/4″ plywood (will yield two trivets approximately 12″ x 12″ – mine are a different size because I used scrap plywood)
The Project:
The trivets are made by ripping the plywood into 1-1/2″ strips, then gluing the strips together face to face and clamping until the glue dries.
The piece is then thoroughly sanded in stages using 100 grit sandpaper, using 150 grit next and finishing with 220 grit. The hard edges can also be rounded with sandpaper.
The entire piece is then cut in half, then finish as desired. I chose to leave the trivets unfinished. They work perfectly protecting the countertop from hot pans and trays.
Either side of the trivet can be used and they make great gifts! A message or design can be added using a woodburning tool, or the trivet can be stenciled with craft paint though the paint may not last long if used with very hot pans. However the trivets are finished, they are still very cool! Have questions about how to make DIY Plywood End Grain Trivets? Leave a comment below!