Cleaning Old Treated Wood with Spray Nine
The Best Tool for Tackling Outdoor Cleaning Jobs
This is a sponsored post written by me on behalf of Spray Nine for IZEA. All opinions are 100% mine.
I just recently built a new deck out the back of my house and wanted to use the existing exterior stairs. Cleaning the old treated wood stairs which were built by my dad nearly 18 years ago was going to take a lot of effort. Over time, they have accumulated a lot of dirt and grime, and have turned a lovely shade of green. They are slick when it rains and although still in great shape, they desperately need a good scrubbing! Cleaning the old treated wood stairs would definitely be a chore but with Spray Nine Heavy Duty Cleaner, it was a breeze!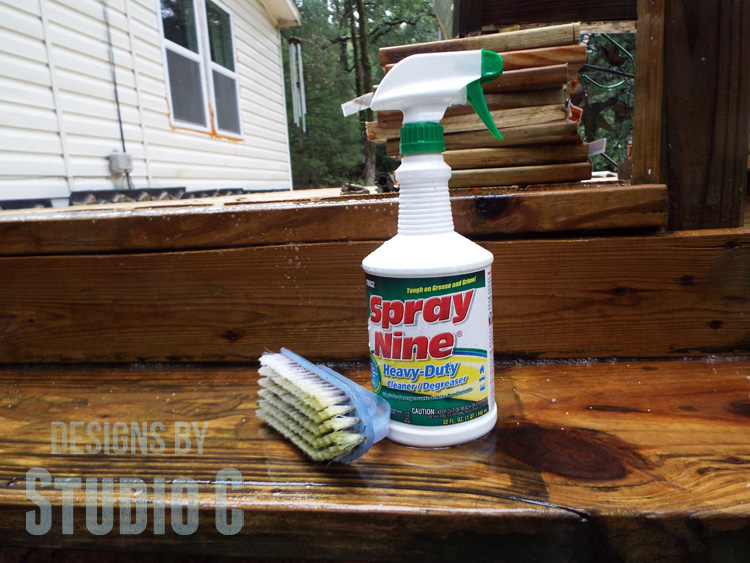 Spray Nine Heavy Duty Cleaner (<– affiliate link!) is a heavy-duty cleaning, degreasing and disinfecting formula that tackles the toughest grime, grease, stains and bacteria where other products may fail. Spray Nine Heavy Duty Cleaner does not use bleach or corrosive chemicals, and removes a myriad of things such as carbon soils, grease, mold and mildew, carpet stains, brake dust, bacteria, viruses, etc. quickly and easily. The "Triple Threat" formula delivers professional strength performance and has been trusted by pros for over 60 years. It can be used for automotive cleaning, industrial and commercial needs, institutional cleaning, manufacturing facilities and around the home.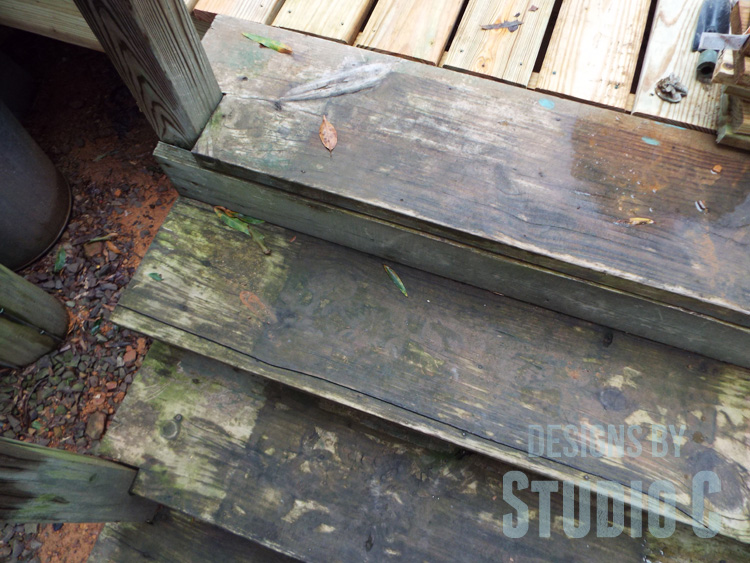 I could not wait to try Spray Nine Heavy Duty Cleaner on the stairs. I sprayed a coat all over the first two steps and let it sit for a few minutes (it is advised to not let it dry on the surface), then I started scrubbing with a brush. Though it took a lot of elbow grease to get the mold and mildew off of the stairs (nearly 18 years worth!), Spray Nine Heavy Duty Cleaner did an excellent job of removing it and rinsed away cleanly.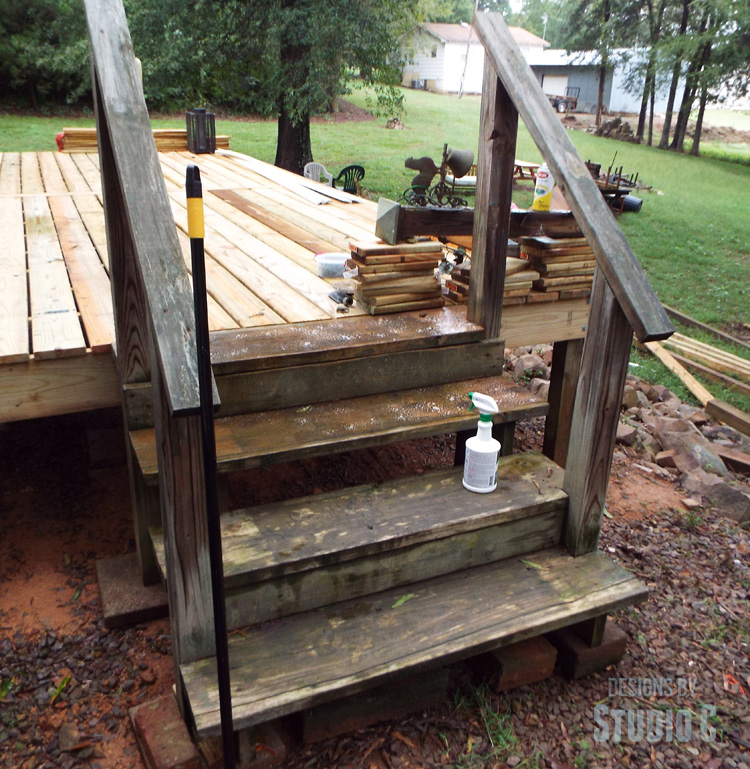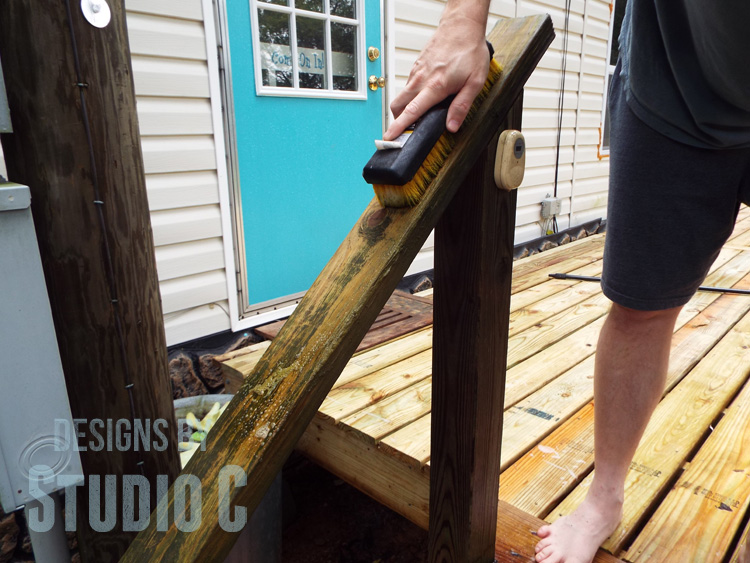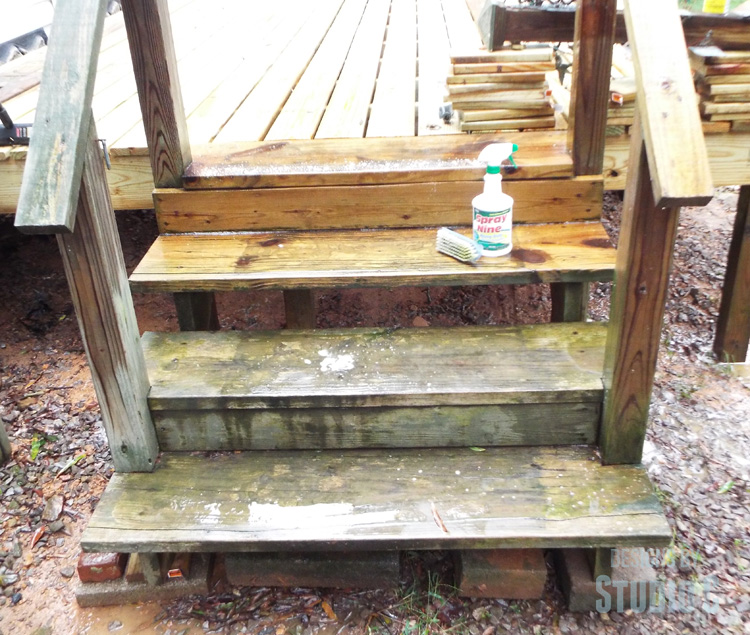 There were areas where I had to apply Spray Nine Heavy Duty Cleaner more than once because they were heavily soiled and I see a few areas where I missed. I am completely amazed at how these grimy, moldy stairs look almost as new as the deck! I have heard a couple of co-workers (yes, I have a job outside of the blog) who exclusively use Spray Nine Heavy Duty Cleaner rave about it. I knew before trying it that it would work – and work well, it did!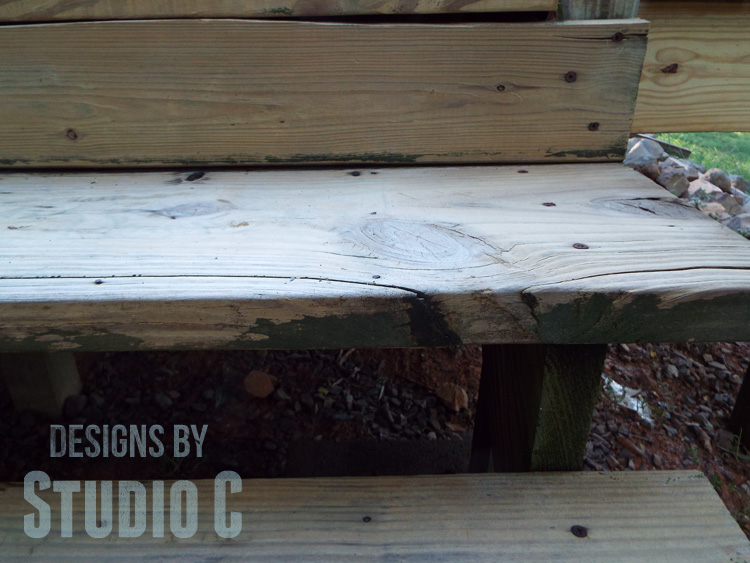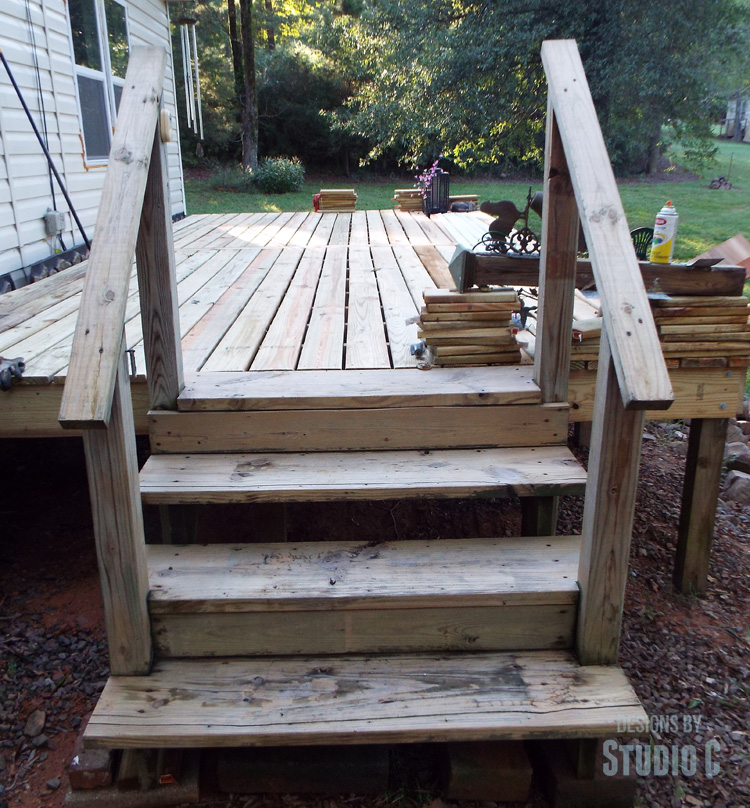 Since Spray Nine Heavy Duty Cleaner works so well, I bought a gallon jug of it to use in cleaning old treated wood furniture in my yard. I have two treated wood outdoor sofas I've built that will need to be cleaned before I can paint them. I know that Spray Nine Heavy Duty Cleaner is up to the task and will make them look fabulous! Trust me, this heavy duty cleaner is the best. Spray Nine is the most versatile and effective heavy duty cleaner available!