A Fab End Table, Inspired by a Catalog Retailer
The fabulous plans to build a Folsom end table (inspired by Pottery Barn) are the perfect first DIY project! The easy to build table is built with a plywood base and solid wood face frames on the front and back. Unfortunately, the plans call for a full sheet of plywood due to the size of the table but that leaves a bit of material to build the matching coffee table or the bench and wall shelf!
This knockoff Pottery barn end table can also be scaled down to use a half sheet of plywood to save a bit of money. In my opinion, it is much more economical to buy a full sheet and save the scrap for future projects.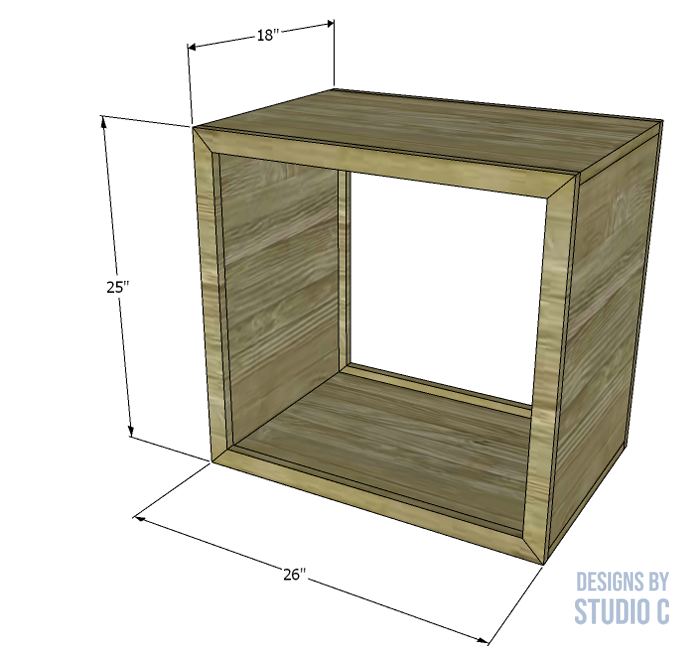 Materials:
1-1/4″ pocket hole screws
2″ brad nails
Edge banding, optional (<– affiliate link!)
Wood glue
Sandpaper (80, 120, 220 grits)
Finishing Supplies
Lumber:
3 – 1×2 at 8′
1 – 4′ x 8′ sheet of 3/4″ plywood
Cut List:
2 – 3/4″ plywood at 16-1/2″ x 26″ – Base Top and Bottom
2 – 3/4″ plywood at 16-1/2″ x 23-1/2″ – Base Sides
4 – 1×2 at 26″ – Face Frame
4 – 1×2 at 25″ – Face Frame

Notes About the Project:
The edge banding will be applied to the shorter edges of the top and bottom (the edges that are NOT hidden by the face frame)
Sand all pieces prior to assembly
The materials listed are to make ONE table
Step One
Cut the pieces for the base top, bottom and sides. With the pocket hole jig set for 3/4″ material, drill pocket holes in each end of the side pieces. Assemble the base using glue and 1-1/4″ pocket hole screws.
Step Two
Cut the pieces for the face frames. There will be a 45° miter in each end. Secure the pieces to the front and back of the base, as shown, using glue and 2″ brad nails.
Fill the holes and finish as desired!
A Few Ways to Make This Table Unique…
Add a piece of faux marble to the top using scrap plywood wrapped with marble adhesive paper (<– affiliate link!)
Stencil a large design on the top like a huge flower or mandala
Add a shelf inside before securing the face frames
Most of all have fun! If you build this table or any other project using my plans, let me know – I love seeing your projects!  Have questions about the plans to build a Folsom end table? Leave a comment below!