Awhile back, I wrote an article for The Design Confidential on How to Replace Windows . I've just recently upgraded both of the kids' bedrooms with new windows.
It seemed like nothing went right from the start but I kept thinking about the finish line… These windows would be so much better than the heat magnets that were in there before. With tons of sweat (and even a little blood – my finger was smashed and it took a little hide off of it, too), the mission has been completed – for now!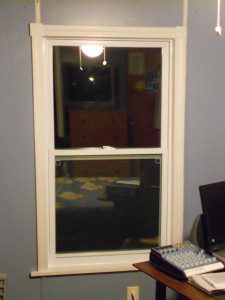 So rather than go into a step-by-step tutorial (see the article above for that!), I'll just share our progress from craptacular  aluminum to vinyl beauty!
I know the pics are hard to see… It was so hard to get one when it is broad daylight, the room is small, blah, blah, etc.
Here it is before…
Ok, I'll describe it… I live in a home that had two windows in each opening – an inner window and an outer window. It was a total pain to put Christmas lights in the windows, believe me! Anyway, the latches never worked (trust me, it doesn't feel good when the window slams down on your arms!) so we used pieces of trim to hold them up!
They had aluminum frames and definitely attracted all of the heat from outside! So after a couple of hours of sweat (and a few un-ladylike words), we finally got the aluminum monsters out!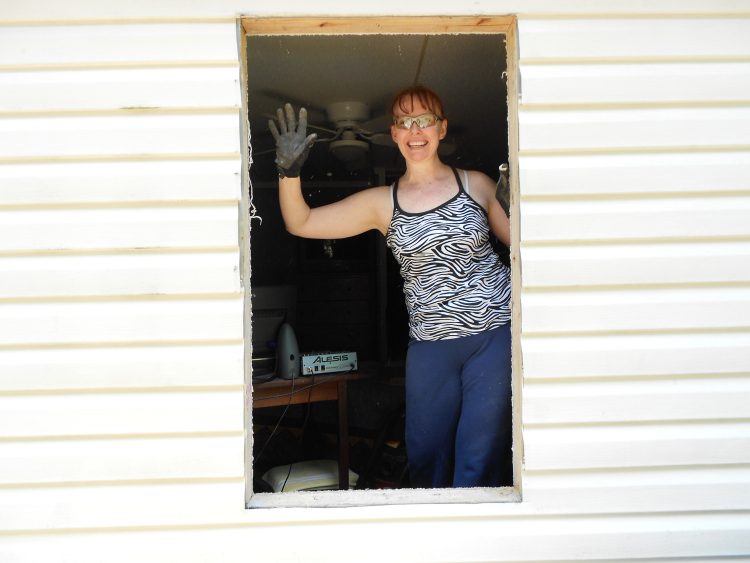 Gosh, we have a great time jumping through the openings! Hard to believe we're adults, huh?
Anyway, we inserted the window, shimmed it (also frustrating because the opening wasn't square), put up the trim on the inside, and used expanding foam on the outside. (Alert – another hard to see picture!)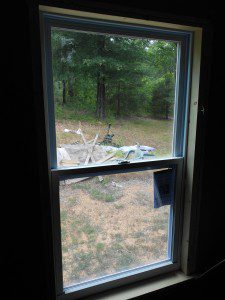 So, of course, I spent the next day putting up PVC trim on the outside – because it would be my luck that it would rain – and priming/painting the trim. I waited until dark to take a picture of my handy work…
Wahoo! Short of touching up some paint and replacing trim pieces over the window, we're done with this one! On to the next one…
Until next time,
Happy Creating!