Installing an Exterior Door in an Existing Opening
Installing a Door Where a Window Used to Be
As we begin the process of making the remaining portion of the house livable (also known as "Deer Camp"), we needed to add a better entrance. For a while, we were referring to the house as Mr. Robinson's Neighborhood because we were climbing through the window. It was all fun and games until I had to climb through the window in a dress…  We decided to remove the window in the spare bedroom which would become the kitchen. Installing an exterior door in an existing opening is not hard but there are a few things to know beforehand.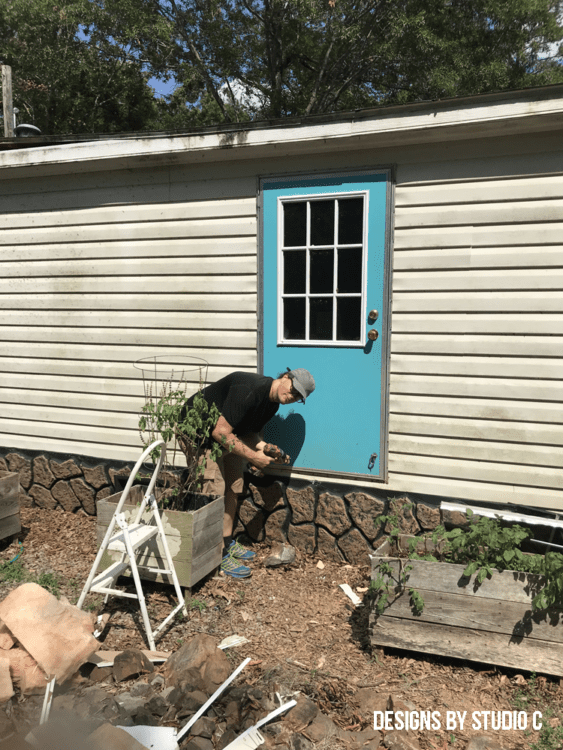 Consult a Professional and Do Research
If there is the least bit of doubt in the skill it takes to remove and add studs to a load-bearing wall, consult a contractor. in our case, the opening was already there we just had to make it a bit taller and wider. Before we began, I did my research! I studied for days and found this article to be most helpful. So even though this was my first time tackling this sort of project, I was well prepared!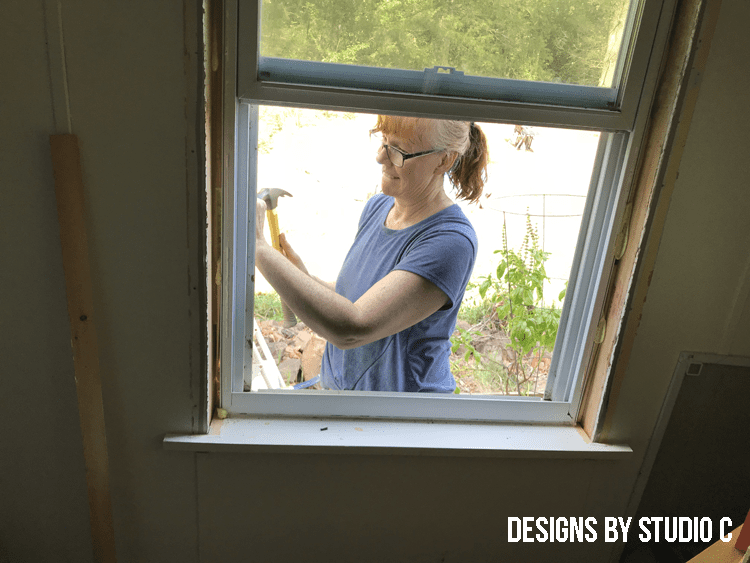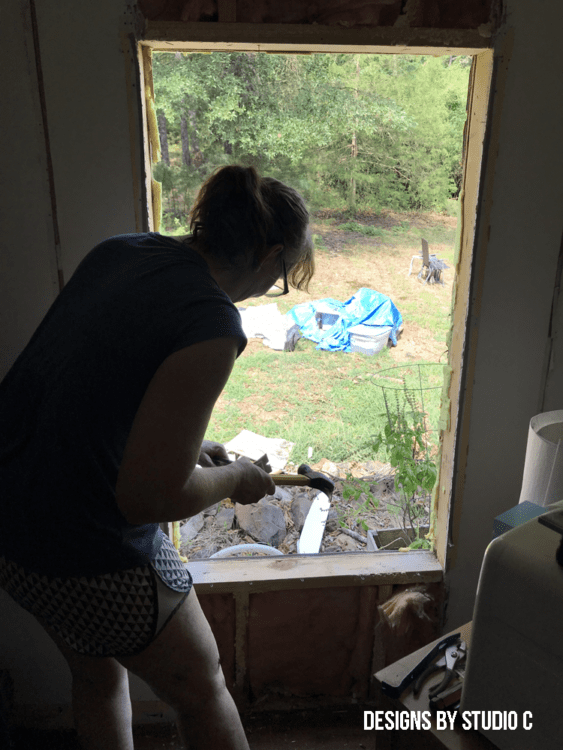 Tools
I also had an idea of what tools I would need. Some of them I had to replace because they were buried under the rubble of the tree that fell on the house but we were able to do it without power and just a few tools. For example:
Pry bars – Large and Small
Pliers (for removing staples and nails)
Hammer
Drill
Cordless circular saw
Cordless reciprocating saw
1″ paddle bit for the drill
2-1/2″ nails and screws
Cordless tools may seem expensive but are really worth the investment especially in a situation like ours where we had no power and needed to do quite a bit of work!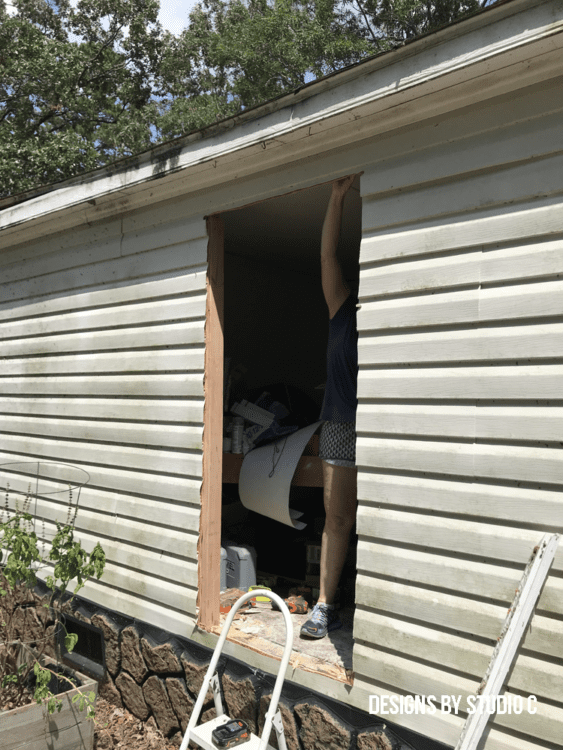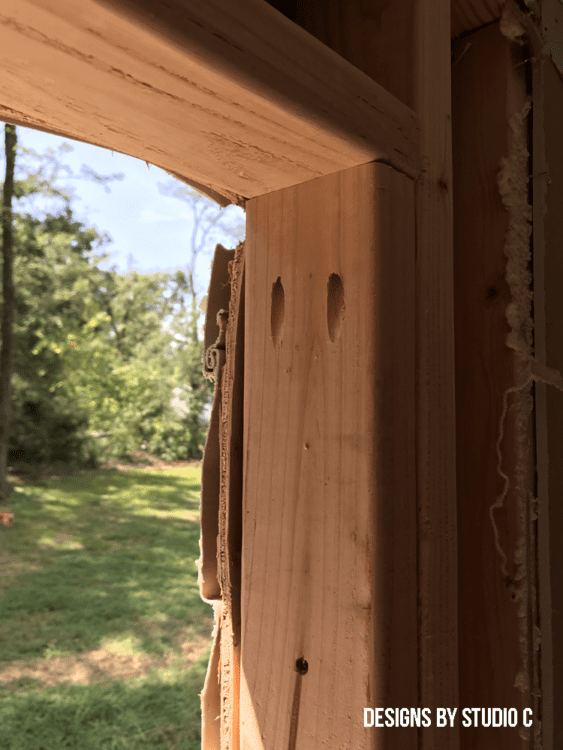 Have a Plan and Work Efficiently
We literally spent all day on this project but things flowed so smoothly because we already had a plan in place. Since I was the one who installed the windows, I knew exactly how each part should be removed and it was so easy. I labeled the back of the trim and casing so that I could reuse it on the same window in another part of the house. The longest part of the process was cutting away the existing studs and adding new ones so that the opening would be bigger. But once that part was complete, it was smooth sailing!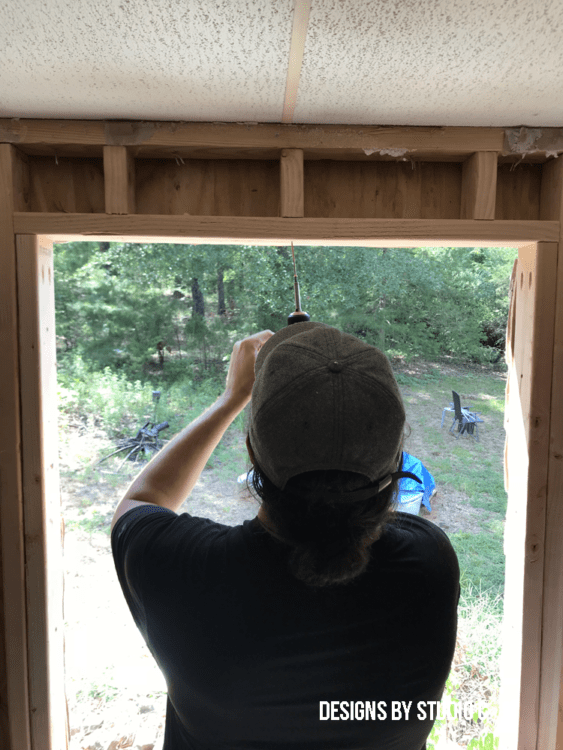 We removed the back door and reused it on the new opening since neither the door or frame were damaged, and because we live in a manufactured home, the door frame just bolted to the outside of the opening. We had it installed in minutes!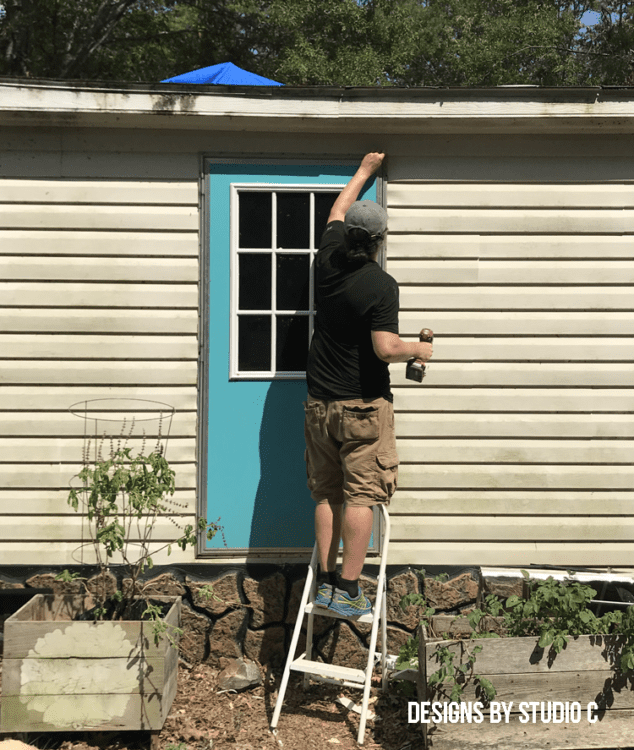 Don't Forget to Build Steps
We were super proud of our work installing the door which meant no more climbing through the window but we still needed to build steps. We purchased two three-step stringers, a 2×4  and two 5/4 x 6 deck boards, all out of pressure treated lumber. We cut the deck boards in six equal pieces (roughly 32″) and had nice, sturdy steps that were wide enough so that we could move larger items out of the house without hurting ourselves.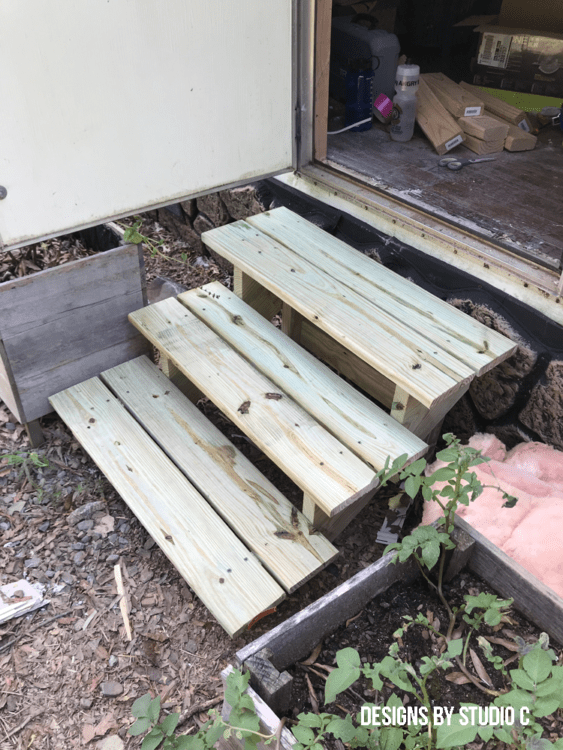 Have any questions about installing an exterior door in an existing opening? Leave a comment below!
Originally posted 2018-08-16 08:00:49.