Install an Outlet on Top of a Desk or a Table
How to Add an Outlet to a Table or Desk
We have finally finished the front room of the house. When the tree fell, I thought we'd never get to this point because rebuilding the front of the house was such a huge job! Now it is finished, and I get to start adding in the furniture like this wall-mounted desk I built a few years ago. I decided to add a furniture power outlet with USB ports to the desk top to make it easier to charge my devices or computer. I used a grommet-type outlet that fits into a hole cut into the top, that will plug into the wall outlet below. The desk outlet is quite easy to install so I wrote a tutorial on how to install an outlet on the top of a desk or a table in hopes that it would help someone else!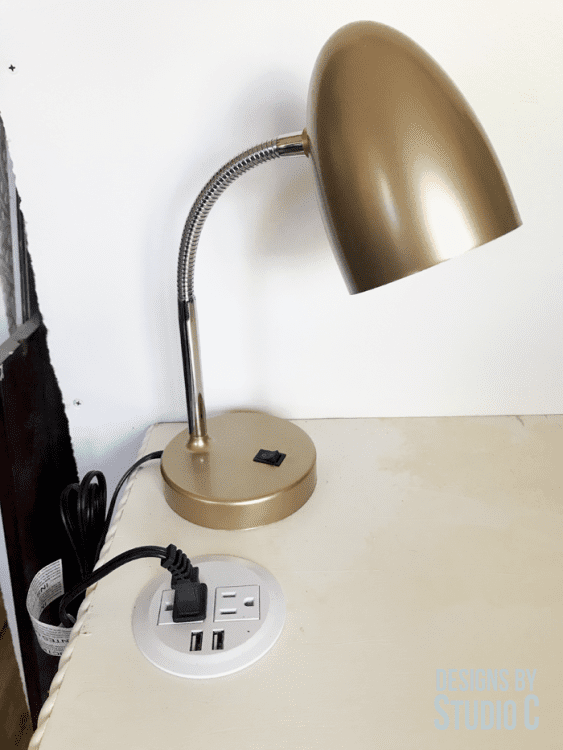 Materials:
Grommet-Type Outlet (<– affiliate link!)
Drill
Hole Saw to Match the Diameter of the Grommet (Mine measured 3″)
Pencil
Step One
Start by marking the position of the outlet on the desk top. Take note of the placement of any support pieces, aprons or legs so the hole doesn't interfere. For example, this desk is mounted to the wall so there is a recess in the back to allow for it to mount to a 2×4 that is secured to the wall. I had to make sure that the hole wouldn't be cut too close to it!
Pro top: When using a hole saw, I like to drill a starter hole with a brad-point bit so that the bit on the hole saw has a starting point and doesn't skip around.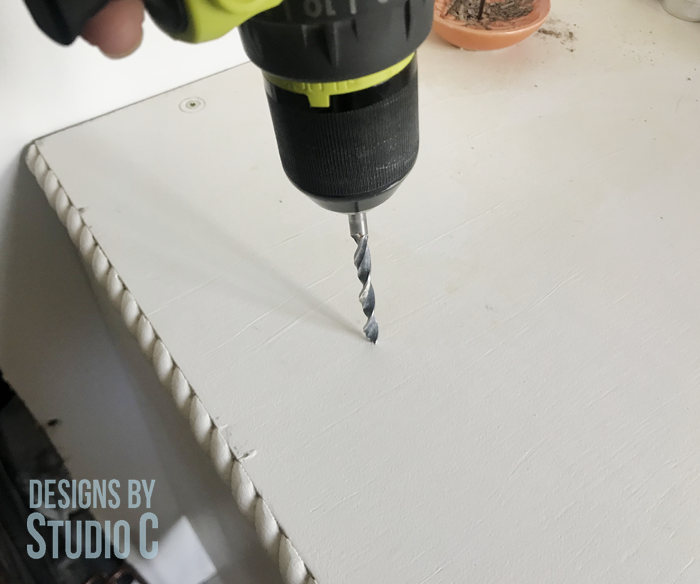 Step Two
Using the hole saw, cut the hole through the top of the desk or table. Do not force the hole saw to cut… Use steady pressure and let the hole saw do the work.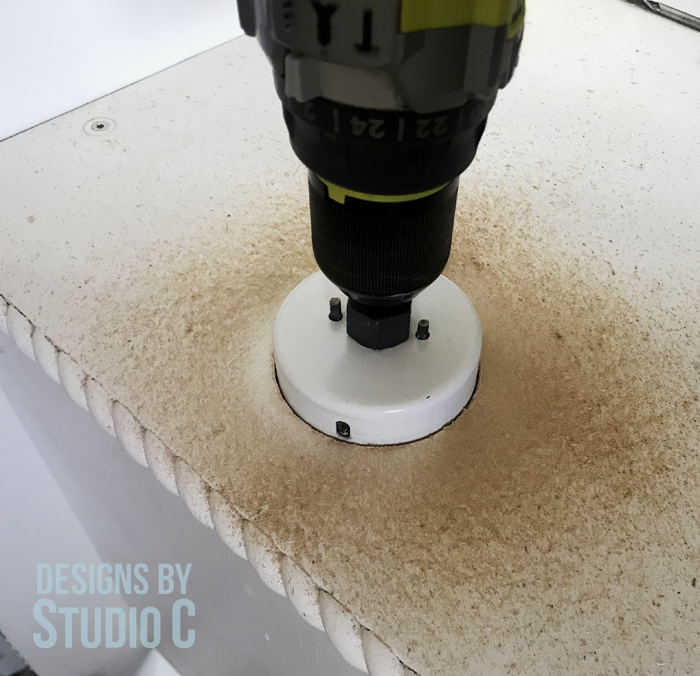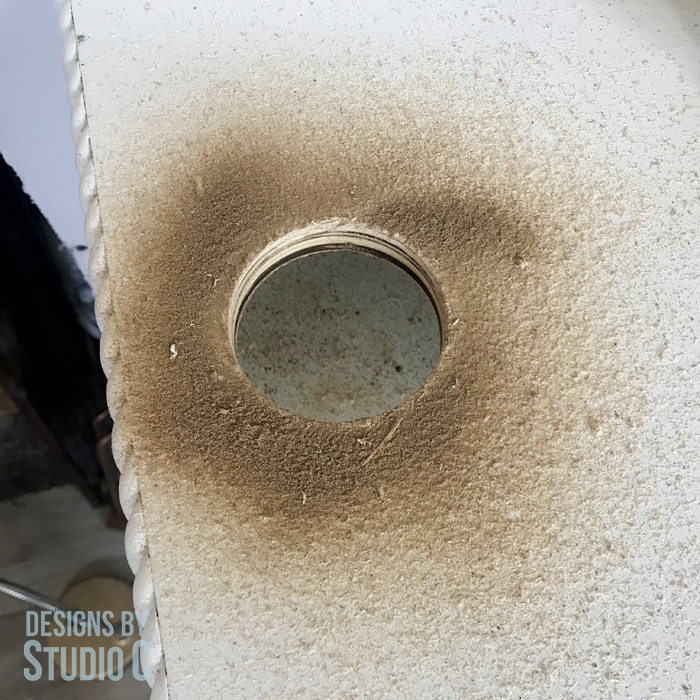 Step Three
Touch up the finish on the top of the desk or table, if necessary. This desk top was a bit scarred up from the roofing materials that fell on it but it was nothing that a fresh coat of paint couldn't cover up!
Insert the outlet and secure in place, then plug it into a wall outlet. I wound the cord then secured it with a zip tie behind the desk so it wouldn't be visible.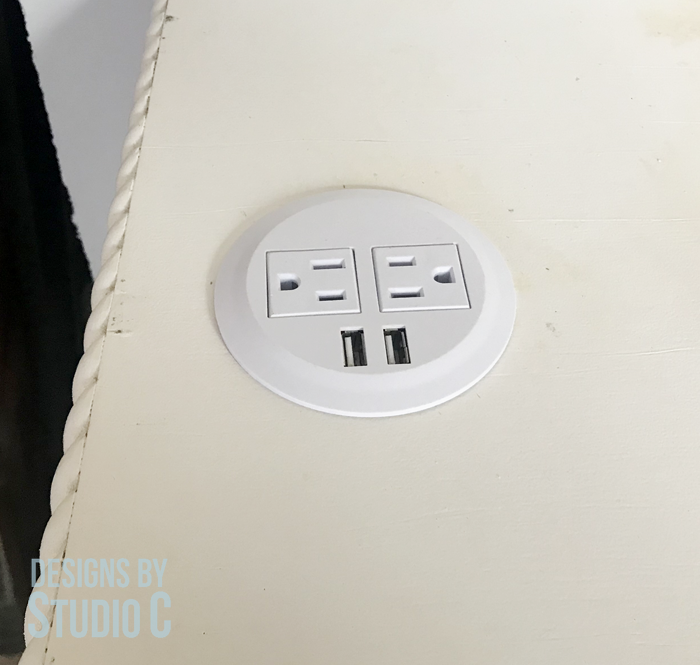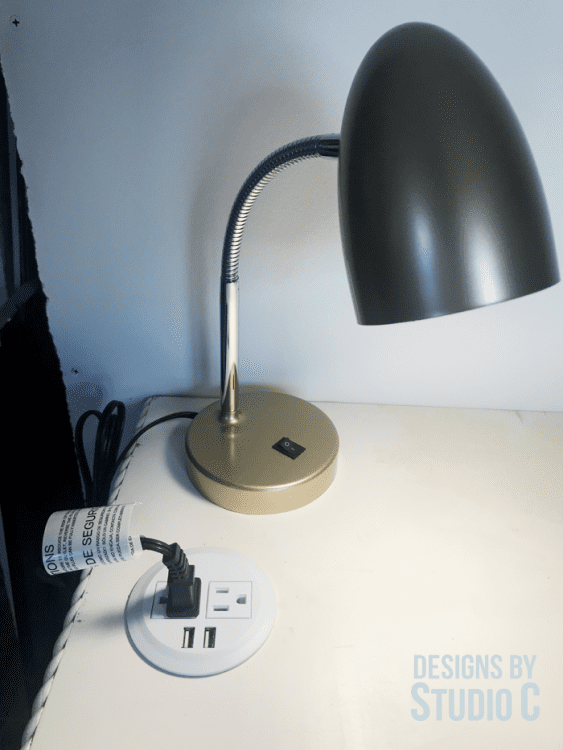 Adding an electrical outlet to a desk is such a simple project and I am so glad to have this desk mounted to a wall again! Have questions about how to install an outlet on the top of a desk or a table? Leave a comment below!
Originally posted 2019-09-29 13:13:41.