How to Build a Bookcase Using Pine Panels
As sad as I am to not be able to get any more of these awesome panels (the rustic "mistake" panels I bought at the home improvement store), I really wanted to build a bookcase with them. I did get lucky and find one more panel at the home improvement store so I could finish my project!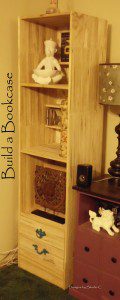 Although I'm pretty sure this bookcase will never hold anything as heavy as a bunch of books (the panels seem to be a little "delicate") but it will hold my CDs and a few decorative items!
Come back tomorrow and I will publish the plans for the bookcase including a materials list, a lumber list, a cut list, and detailed drawings!
I used glue and a brad nailer to assemble it, and did so in a few hours. Plus, there is no finishing required as I want to leave the panels "rustic". I covered the back panel with wallpaper so it would show through – just a little decorative touch!
The plans are suitable for regular 21/32″ x 16″ x 72″ paint grade pine panels available at most home improvement stores.
I started by cutting all of my pieces. I drew lines on one of the side panels for positioning the shelves then clamped  a right angle squaring jig on the shelf as well as the side to keep it square. I inserted a few 1-1/4″ brad nails.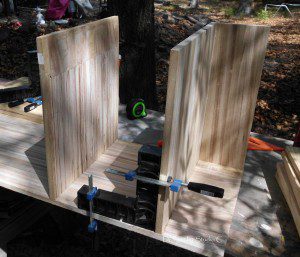 Once all of the shelves were in place, I attached the kick plate under the lowest shelf. Then, I drew lines on the other side panel for the shelves and attached it to the other side of the bookcase.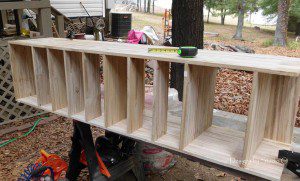 I didn't have a 1/4″ piece of plywood long enough so I used two pieces. It is perfectly fine to use two pieces as long as the seam falls behind a shelf so it is hidden. I used spray adhesive to attach a piece of wallpaper to the inside of the back. I trimmed away the excess, then attached the piece to the back.
I measured for the second piece, covered it with wallpaper, and attached it as well.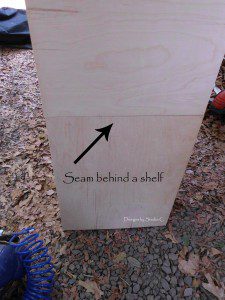 I built the drawer boxes and installed the drawer slide hardware, then attached the drawer fronts. I spray painted a couple of old drawer handles I had and attached them to the front.
I absolutely LOVE the look of the panels and its just my luck that I cannot get any more but now I have this gorgeous bookcase to enjoy!
Until next time,
Happy Creating!