DIY Sliding Door Spice Cabinet
The Perfect Place to Store Spices for Cooking
In my quest to find decorative projects to build (I wanted to take a break from the massive rebuilding of the house since the tree fell on it), I found this Beauty Cabinet designed and created by Ana White. I love all things about this, especially the sliding door with the mirror! Upon further drooling over this project, I figured it would make a pretty awesome spice cabinet for the bedroom-turned-kitchen in my home. The DIY sliding door spice cabinet is a shortened version of Ana's Beauty Cabinet and instead of a mirror on the door, I framed a piece of kitchen-themed (or food-related, if you will) wall art.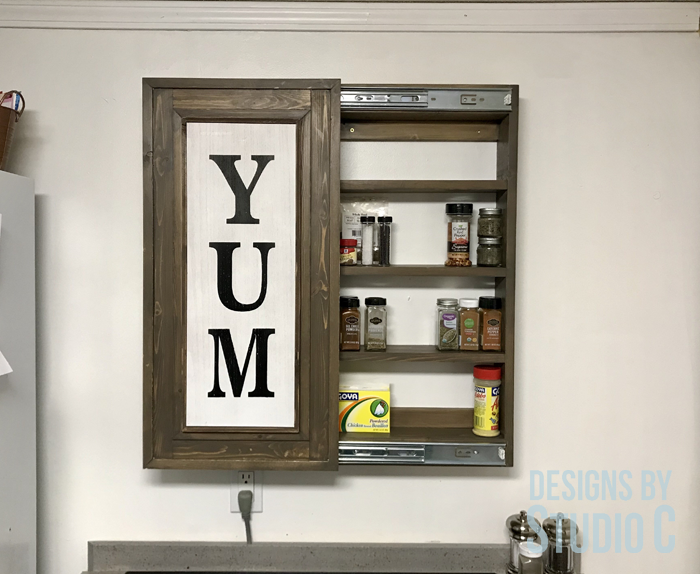 I found this piece of wall art at Hobby Lobby and I love the simplicity – YUM. It's so great and was a steal at $10. It is made of wood with a narrow wood frame and I thought it would be a great door for this spice rack shelf!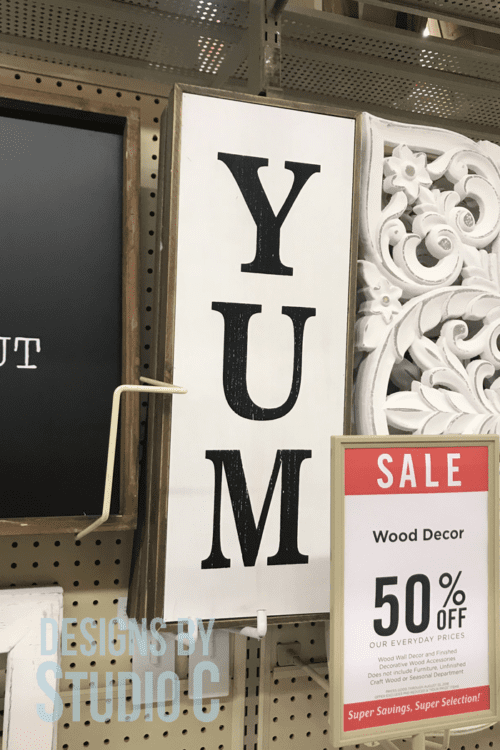 I added a few pieces of pine around the frame of the wall art to make it larger and a little fancier. Actually, it needed a larger frame to accommodate the drawer slides and since I love what I call the "stacked frame" which I've used on other projects, I added it to this one. I used one 1×6 at 8′, ripping it into narrower pieces then secured it to the wall art.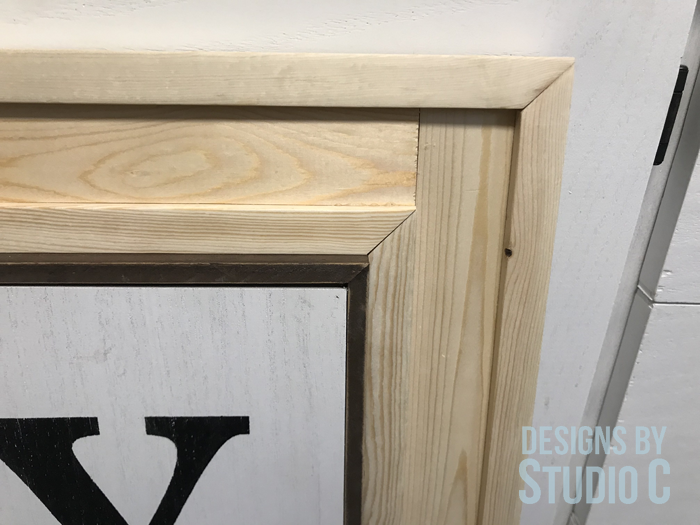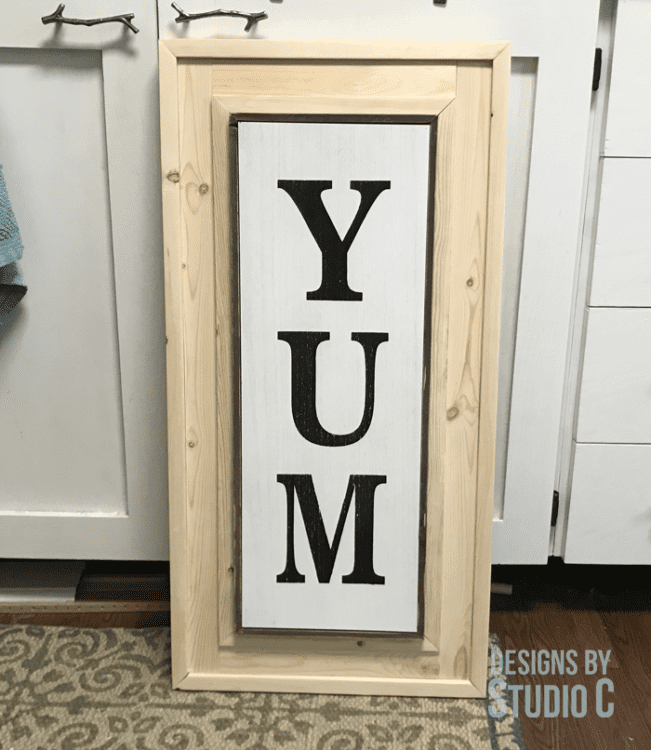 Once I had the frame completed, I used the overall dimensions to create the cabinet out of a few pine boards that had a former life as slats for a bed. The cabinet has four shelves and if (or when) I make this project again, I will make the shelves adjustable.
I stained the frame and cabinet using Rustoleum's Briarsmoke then sealed with a matte finish polyurethane… (like the open chunky shelving already in the kitchen)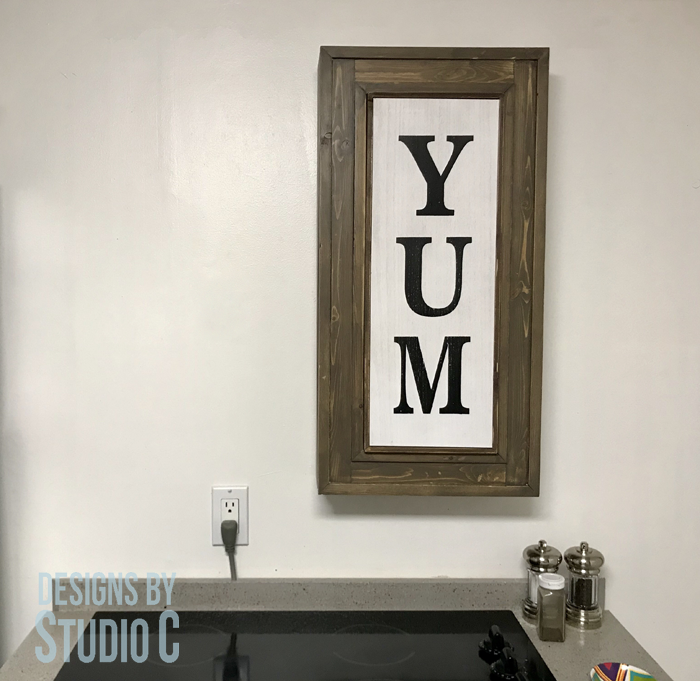 I installed 14″ drawer slides on the cabinet and frame, then hung the cabinet in the kitchen above the cooktop where the spices will be easily accessible for our culinary creations (channeling our inner Bourdain – RIP Tony).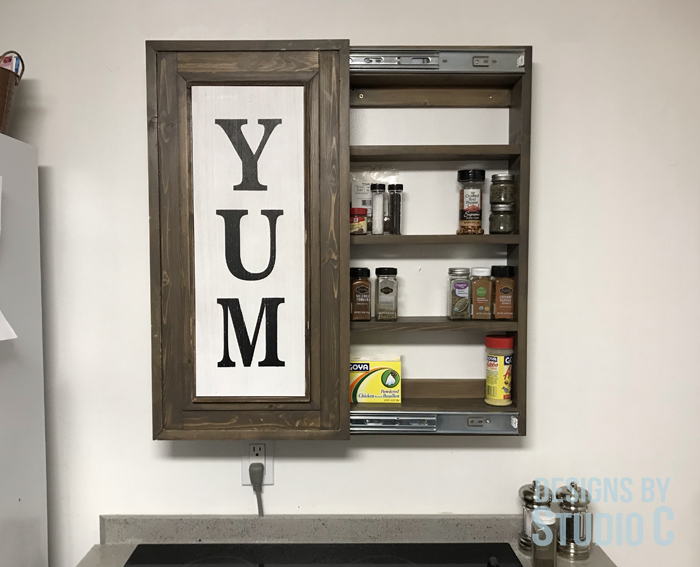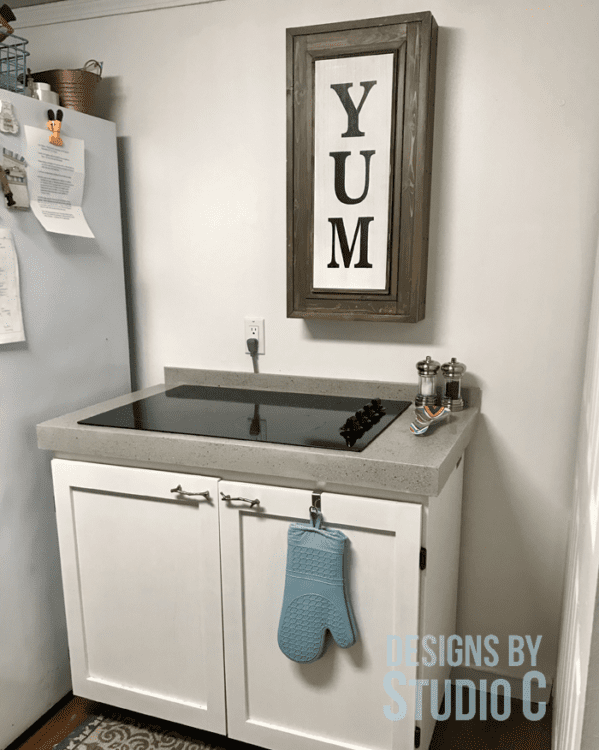 The DIY sliding door spice cabinet was an easy build, and was extremely inexpensive (except for the drawer slides which Ana outlined in her post). I was able to complete it over the course of a couple of weekends. Though I was rather impatient about it, I am so glad it is finished – I love it!