DIY Plans to Build a Decorative Ladder
A Fabulous Ladder for Decoration and Display
Let me start off by saying that this ladder is for decorative purposes only – it is not to stand on! The DIY plans to build a Decorative Ladder feature round rungs made from dowel rods, and 2x lumber legs. The ladder also has an angle cut into the bottom of each leg to allow it to lean back against a wall. This is a super-quick and easy project that can be completed in a couple of hours!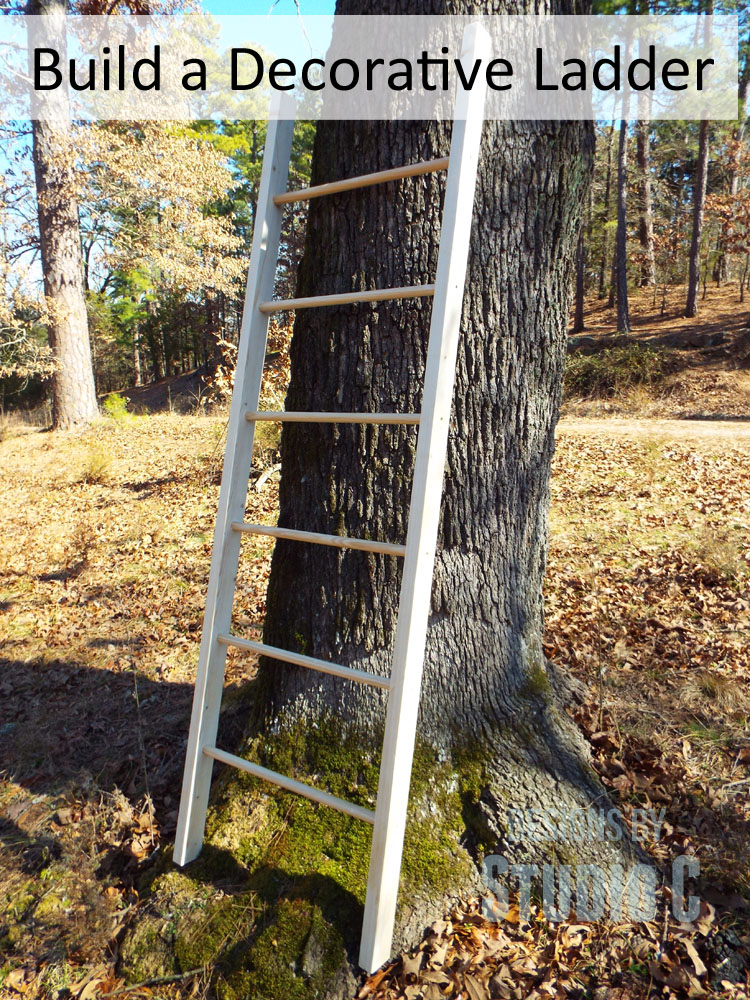 Materials:
2-1/2″ screws
1″ Forstner bit (<– affiliate link!)
Wood glue
Sandpaper (100, 150, 220 grits)
Finishing supplies (primer & paint, or stain, sealer)
Lumber:
4 – 1″ round dowels at 4′
2 – 2×3 at 8′
Cut List:
2 – 2×3 at 7′ – Legs
6 – 1″ round dowels at 22″- Rungs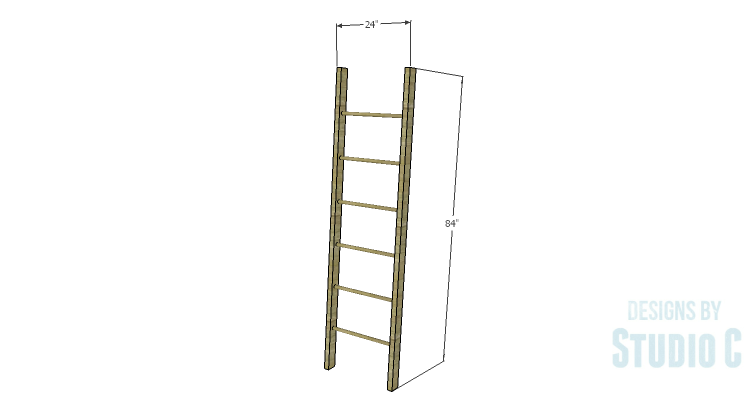 Click on the drawings for a larger view!
Step One
Cut the pieces for the legs to length and cut a 5° angle in one end of each piece. Treating each leg as a left and a right (so the angles face the same way), mark the position for the holes to hold the dowels. The holes are spaced 12″ apart on center along the centerline of the legs. Drill a 1/2″ deep hole at each mark with the 1″ Forstner bit.
To make it easier to pre-drill the holes for the screws, drill a hole through the center of each hole for the dowels through to the outside of the legs.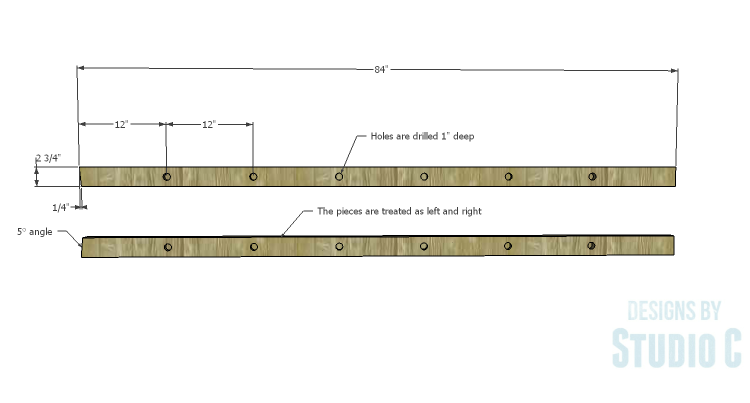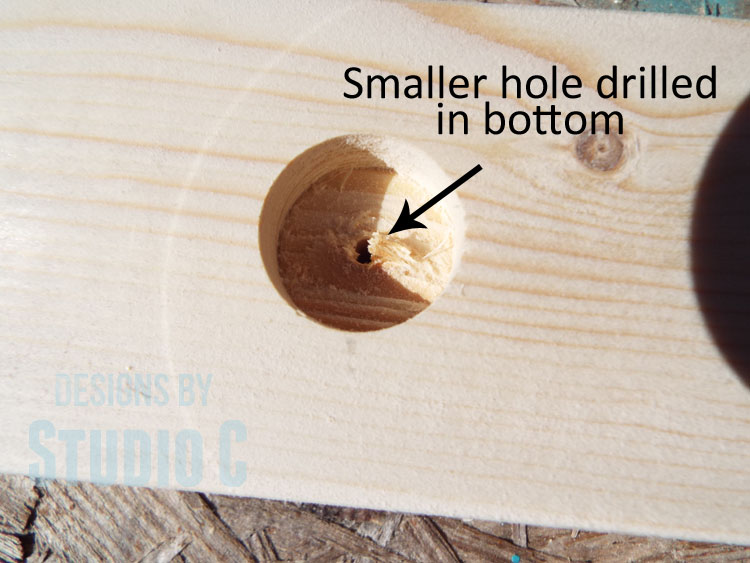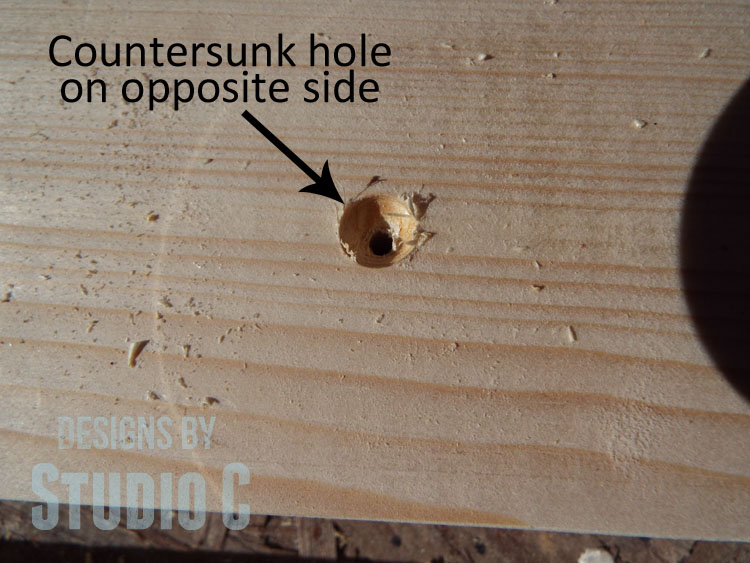 Step Two
Cut the pieces of dowel to length. Working with one dowel at a time, apply glue to one of the larger holes and insert a dowel. From the outside through the smaller holes drilled through the larger holes, drill into the end of the dowel to insert a screw, then drive the screws through the leg into the dowel. Repeat for each dowel.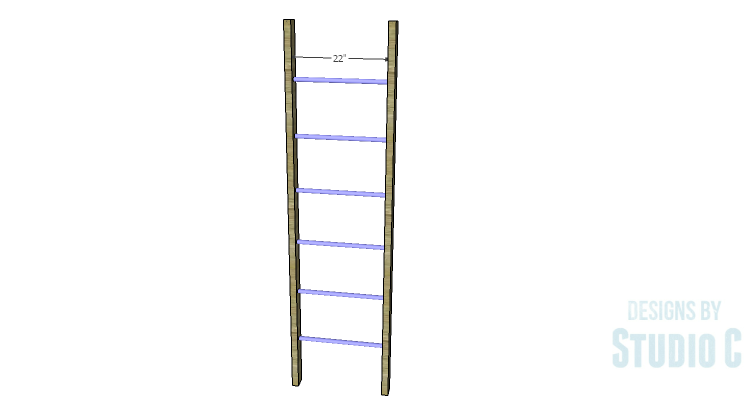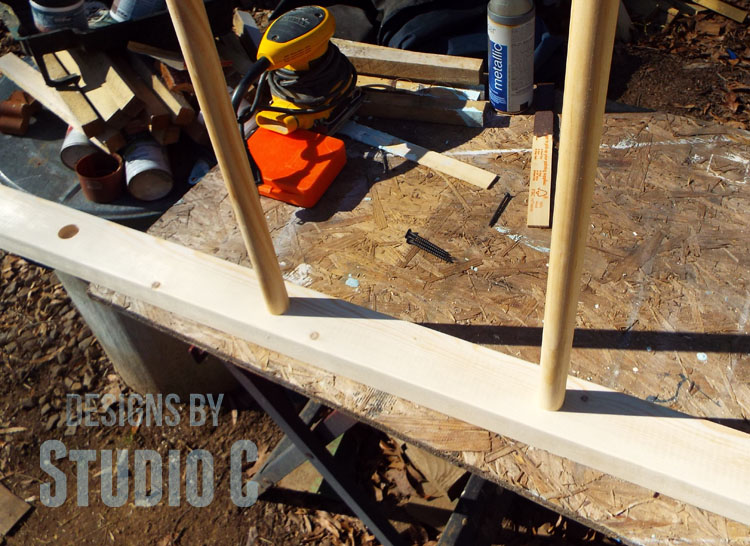 Step Three
Lay the leg with the dowels already secured to it on a flat surface. Apply glue to the holes of the remaining leg, then lay the leg on top of the open end of the dowels and fit each dowel into the holes. Tap into place with a rubber mallet. Check the ladder for square, then drive the screws through the holes in the remaining leg into the ends of the dowels.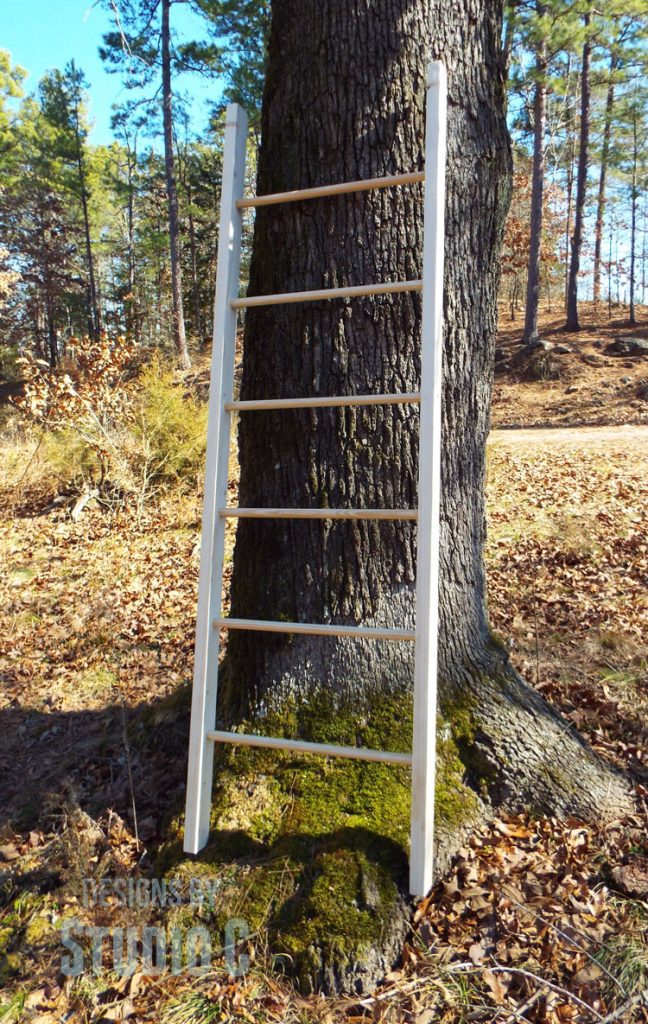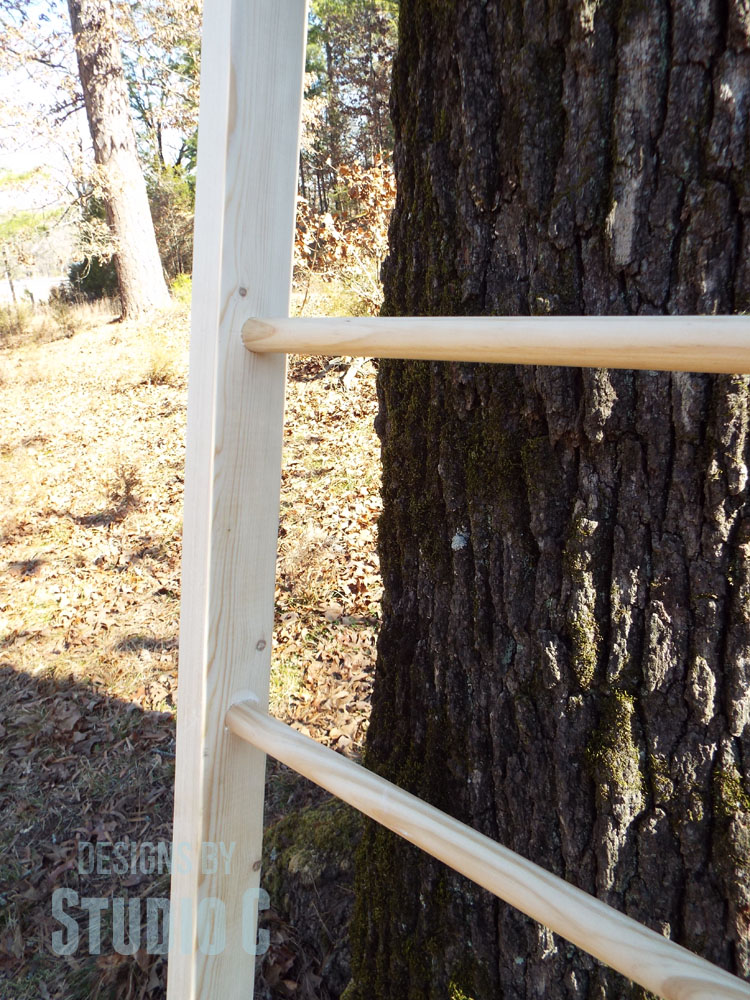 Finish as desired.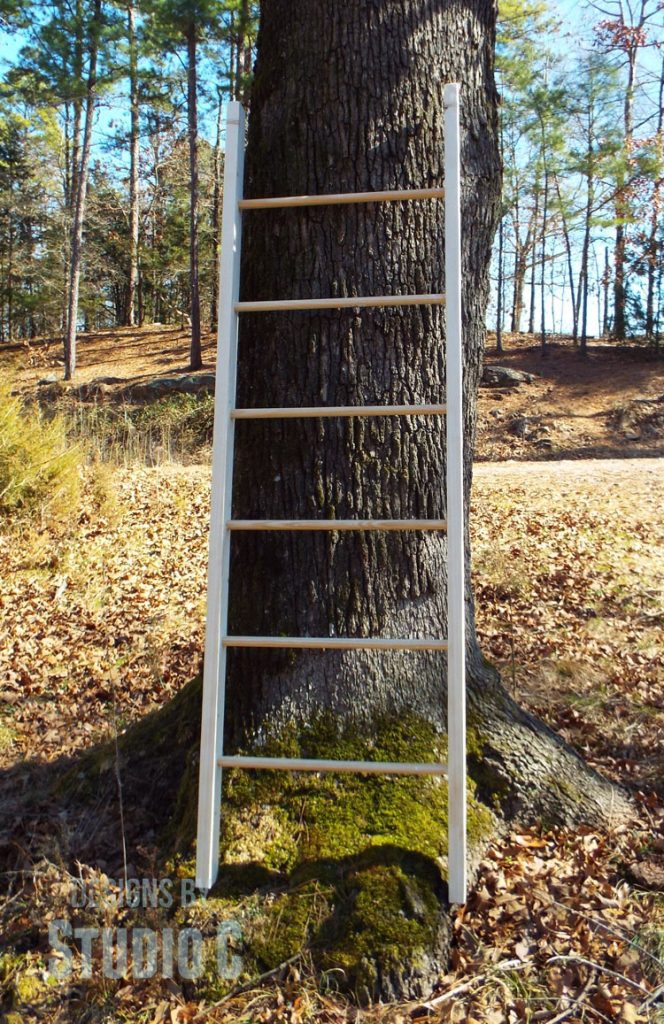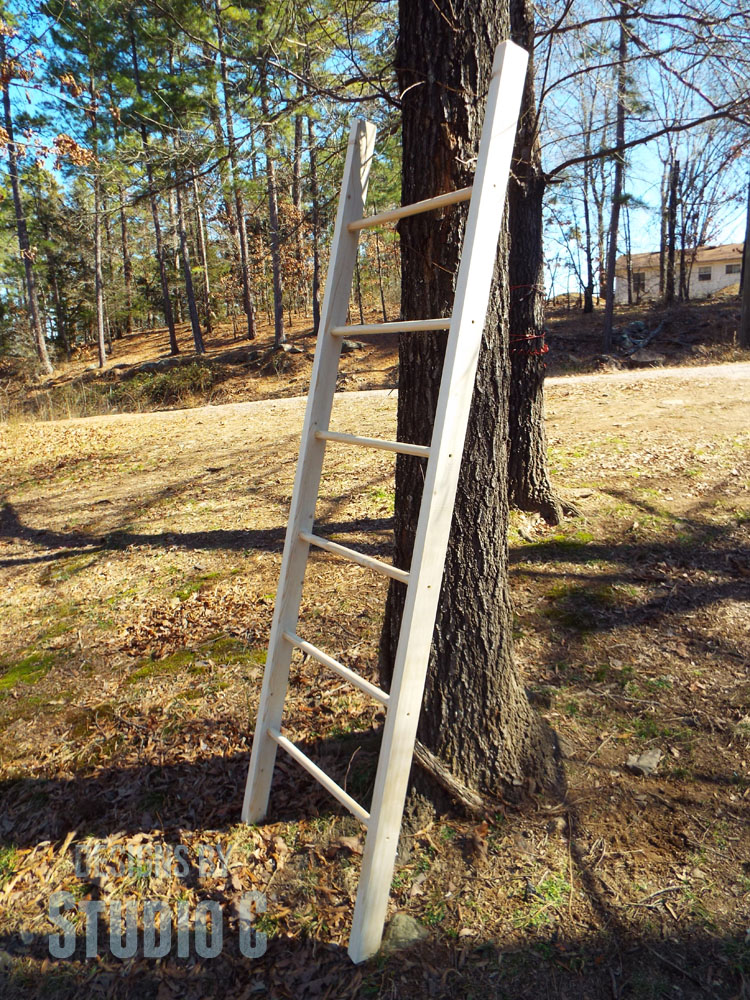 The ladder is a great way to store blankets in a living room, or a bedroom. It would also look great in a bathroom with towels draped over the rungs! Have any questions about the DIY plans to build a Decorative Ladder? Leave a comment below!
Originally posted 2015-02-11 08:00:32.