DIY Light Fixture Makeover
Change the Look of a Light Fixture with Paint and Etched Glass
I will admit it… I am an addict. I'm not only addicted to DIY, home improvement, Rust-Oleum products, and PureBond plywood. No sirree. I am addicted to our local Habitat for Humanity ReStore!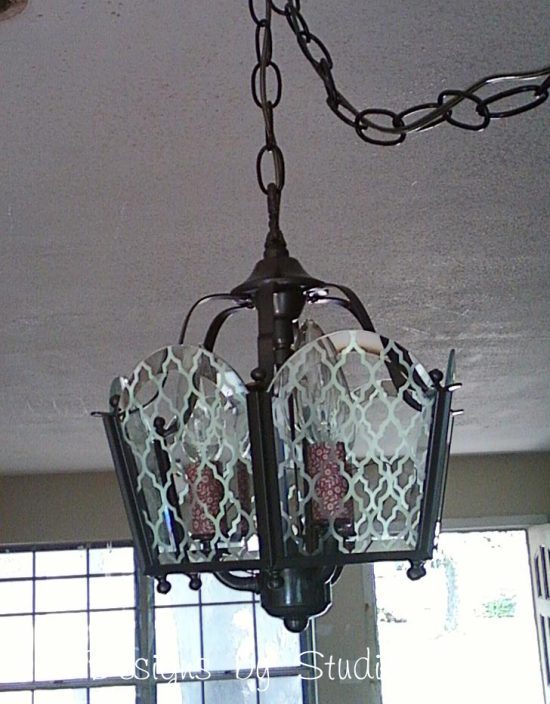 On my first trip there, I remember walking in the door and hearing the angels sing! OH. MY. GOSH!! It was like a DIYer's toy store! They have everything – doors (sorted according to size and type), windows, lumber, hinges, handles, toilets, light fixtures, furniture, etc. It is fabulous!!
I have made tons of purchases there since and am on a first-name basis with the rock stars that work there. I am also excited about participating in ReStore & After, a local event benefiting Habitat for Humanity of Pulaski County (Arkansas) which auctions items donated to the ReStore that have been up-cycled by local artists. As I finish each project I have committed to donating, I will publish a full tutorial on each one so stay tuned!
So anyway, one of my fabulous ReStore projects is a light fixture makeover. This cute little fixture was very simple – brass with plain glass. It was a blank canvas practically begging to be made over. (Of course, I did not take a "before" photo of it fully assembled… Sorry!)
I started by disassembling the fixture. I removed the glass and taped off the sockets.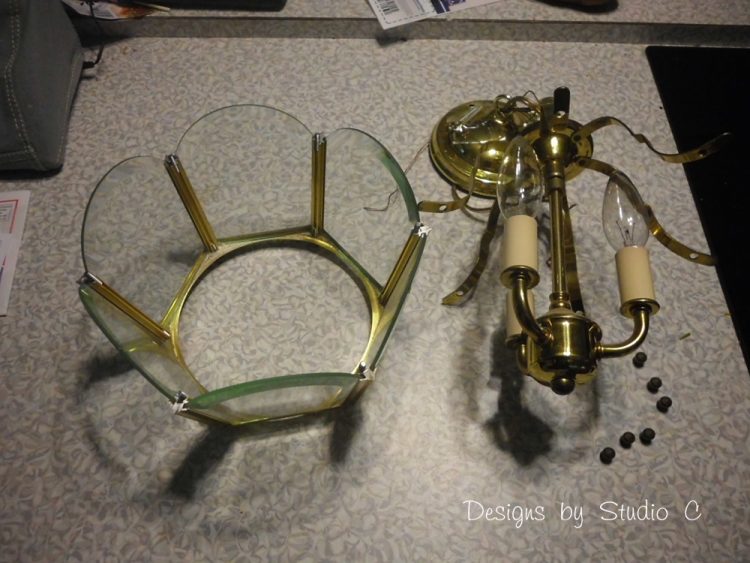 I used my favorite primer by Rust-Oleum, Rusty Metal Primer, and primed all of the metal parts. I then spray painted the fixture using Metallic Charcoal spray paint by Rust-Oleum, of course!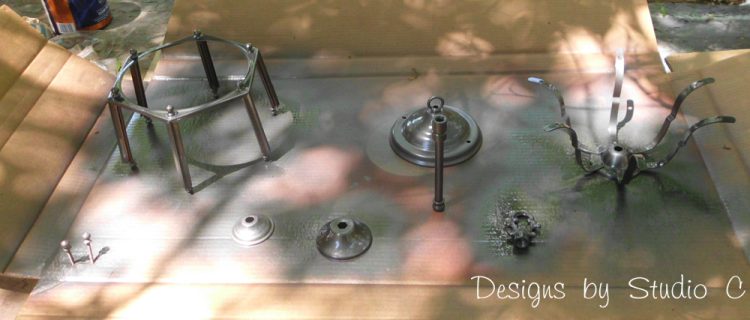 While I waited for the spray paint to fully dry, I cut a stencil out of vinyl with my Silhouette Cameo. I applied the stencil in reverse on the back side of the glass, and used etching cream to etch the design. I chose the back side of the glass because it was totally flat where the "right" side had a bevel on the edge of the glass.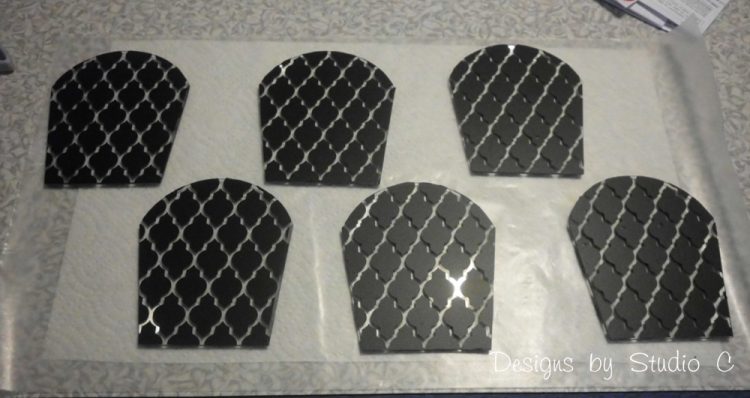 Once I rinsed the etching cream off, I loved how it looked through the glass so I ended up using the "right" side anyway!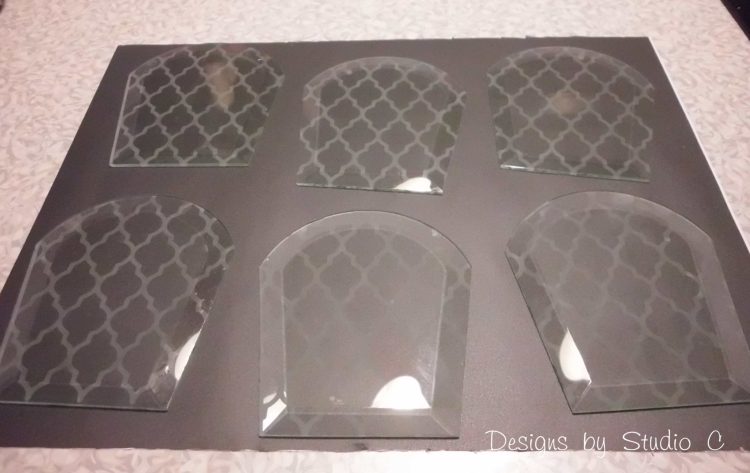 I reassembled everything and covered the tubes used to hide the sockets with scrapbooking paper. I also added new (and much longer) wire and chain.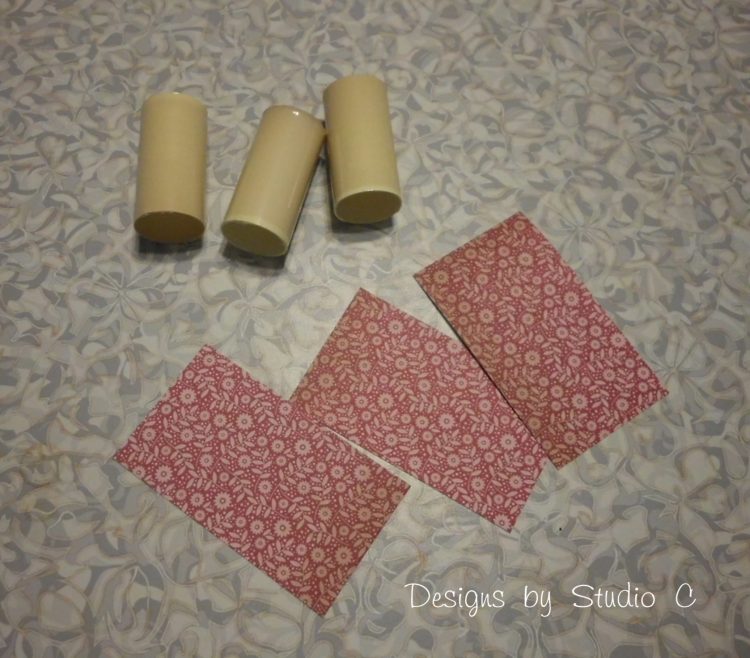 The newly refurbished light fixture was hung on a plant hook in the center of the dining room ceiling.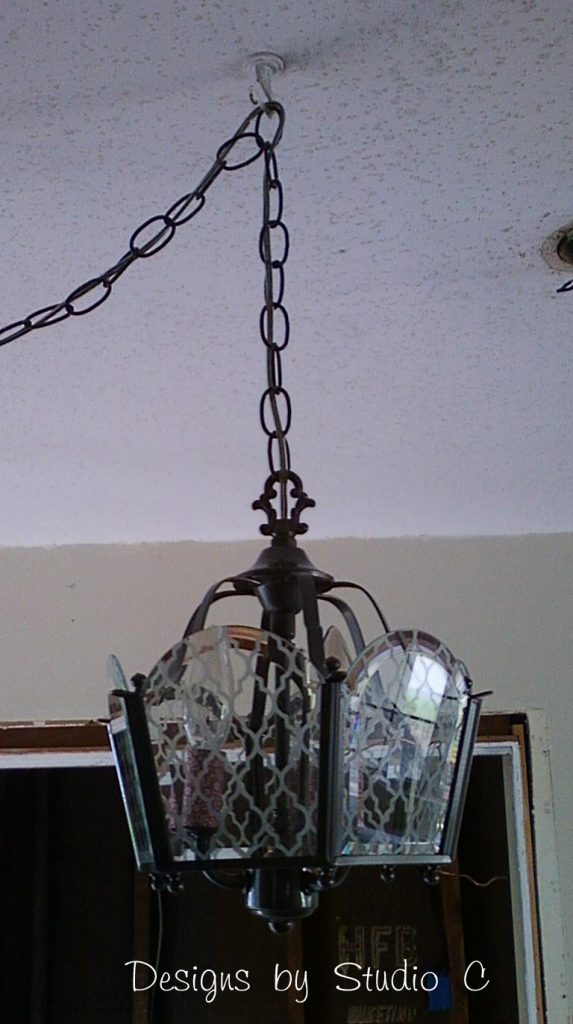 Needless to say, I've been back to my favorite store on earth (*heart*) and purchased a few more light fixtures that I will be making over in the coming months.
Do you have a ReStore in your area? Do you love it?
Have questions about the DIY light fixture makeover? Leave a comment below!
Sharing with The Real Thing with The Coake Family, All Things Pretty, My Romantic Home, Thirty Handmade Days, Common Ground, Jennifer Rizzo, Funky Junk Interiors