DIY Kitchen Projects on a Budget
Easy Kitchen Updates That Won't Break the Bank!
Sometimes a home remodel project is necessary and sometimes it is just purely for cosmetic reasons. When the tree fell on our house (taking out the kitchen, dining room and living room) we scrambled to rebuild and decided to turn the smallest bedroom into a kitchen. Not an easy task by any means, but it needed to be done quickly so we could move back into the home.
We reused the cabinets that we could salvage from the original kitchen (since I built them myself!) as well as the sink, cooktop and countertop. Fast forward four years and it was time to do it right but I didn't want to spend a ton of money. In this article, I'll share the DIY kitchen projects on a budget that I used to make this an upgraded space without breaking the bank!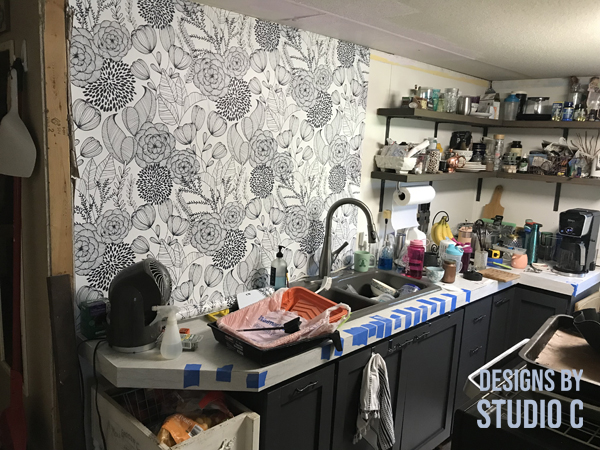 Build Your Own Countertops
I have done this quite a few times, including building the countertops for both bathrooms. It is a budget-friendly project especially when there are custom sizes involved. I built the countertop itself using 3/4″ plywood with 1×3 aprons, and it measured approximately 3′ wide (at the corner) and 9′ long. I also purchased a 5′ x 10′ sheet of laminate and used contact cement to apply it to the plywood. In all, the custom countertop and the countertop for the cooktop cabinet cost roughly $200.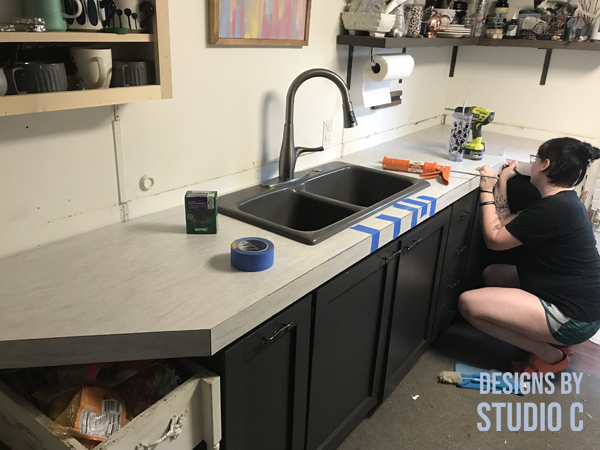 Paint (or Stain) the Cabinets!
The original cabinets were built using oak plywood that were then painted white to go into this space. That was a decision I completely regret but again, I was short on time and needed to get them in quickly. Once I got ready to repaint them, I decided that dark grey kitchen cabinets would be the way to go especially since it would match the bathroom cabinet and I could use the same paint I already had. No regrets this time. For the cost of a gallon of good paint (roughly $35-40), I have beautiful lower cabinets that won't show dirt nearly as bad as the white!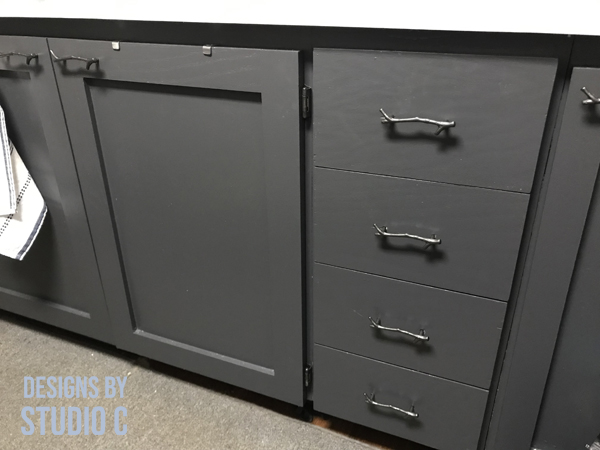 Build New Upper Cabinets
I was inspired by a display in IKEA where they used shallow wall cabinets in a small space. I loved how the cabinets didn't overpower the space yet had a great amount of storage. I designed this wall mount corner cabinet to hold plates and bowls since they wouldn't fit in the other shallow 1×6 cabinets I built. I still have to build doors for the cabinets but I love how these look!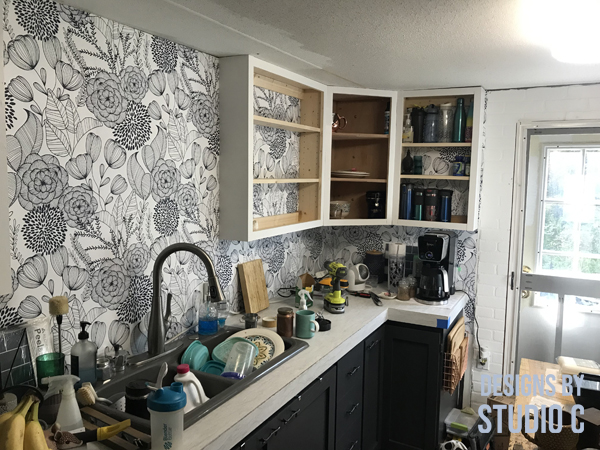 Wallpaper or Paint?
There are some really great wallpaper (<– affiliate link!) kitchen ideas out there that sparked my decision for the walls. Wallpaper has come a long way, and most of it is self-adhesive and removable which makes it so easy! I didn't spend a lot of money on this wallpaper (about $100) and it was really easy to match up for perfect seams. I love the pattern and it compliments the paint colors on the cabinets nicely!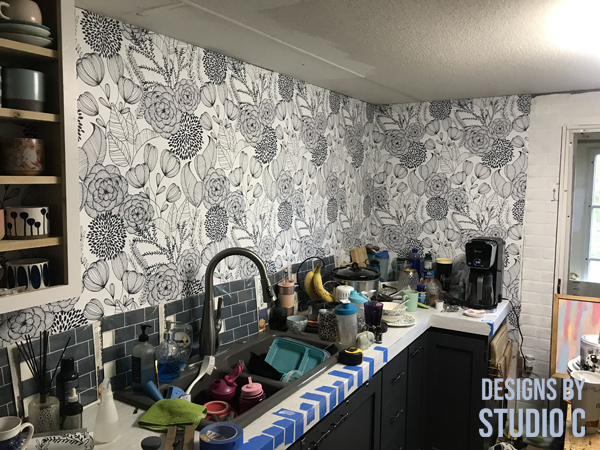 So, how about it… What other DIY kitchen projects on a budget can you think of? Ideas for kitchen walls or easy to build storage? Share in the comments below!