Build a Pallet Coffee Table
An Easy to Build Coffee Table Using a Pallet
I was able to score a really cool half pallet at work. I thought I could use it to build a pallet coffee table since we needed a table in the new front room of the house. I added a few boards to the bottom so that it also had storage, as well as spray-painted hairpin legs! I was able to make the table in a few hours including stain and sealer, and couldn't be happier with the results!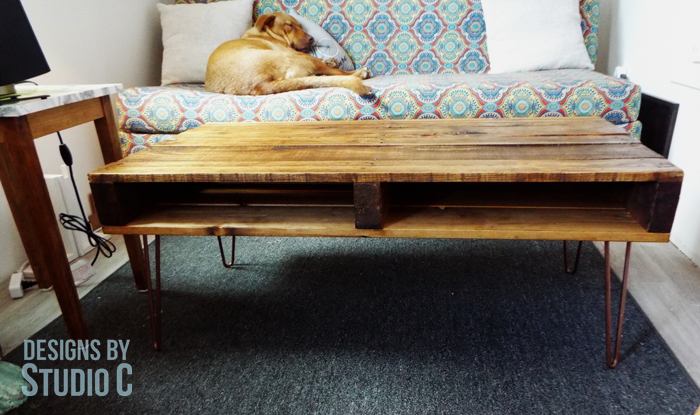 The overall size of the table is approximately 44″ long by 23″ wide and it's about 17-1/2″ tall. Most of the photos feature our pets (because they obviously rule the roost) and our 'works in progress' because we're still rebuilding the house after the tree fell on it!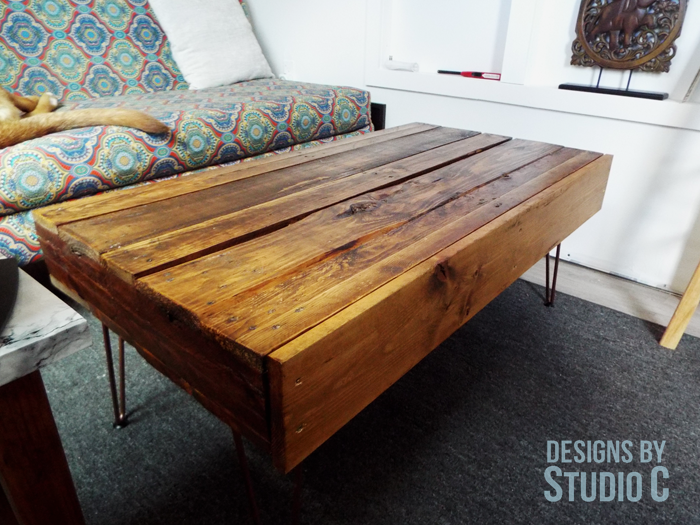 Here's how I did it…
I sanded the pallet using four different grits of sandpaper (60, 80, 120 and 220 grits). The pallet itself was rough, and sanding it made it super-smooth without taking away from the rustic look. Plus, there were boot prints on top and I really didn't want those to show on a table!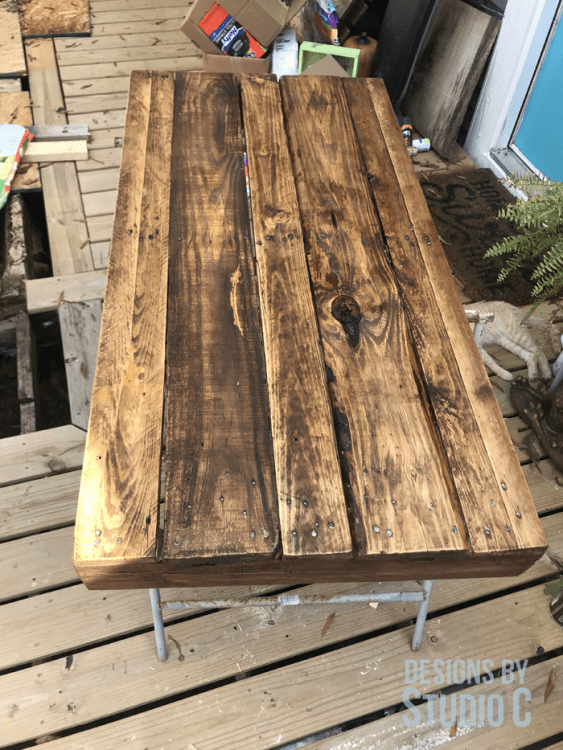 I applied stain to the inside and the outside. I wanted to be able to add boards to the bottom of it so that I had a cubby to stash the remotes for the electronics, a book, coasters, etc.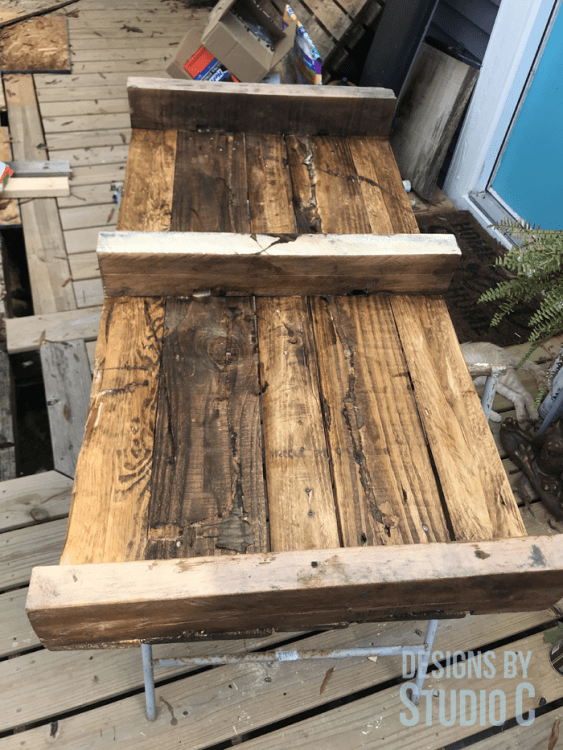 I cut five 1×6 boards at the same length as the pallet, and stained the faces of the boards that would be the inside. I secured four of the boards to the bottom, evenly spaced, using 1-1/2″ screws, and secured the remaining board to what would be the back of the cubbies on the outside. This piece was mainly to cover up a splintered board and not so much to close up the cubbies. (I had already stabbed myself in the finger with a huge splinter from this part of the pallet!)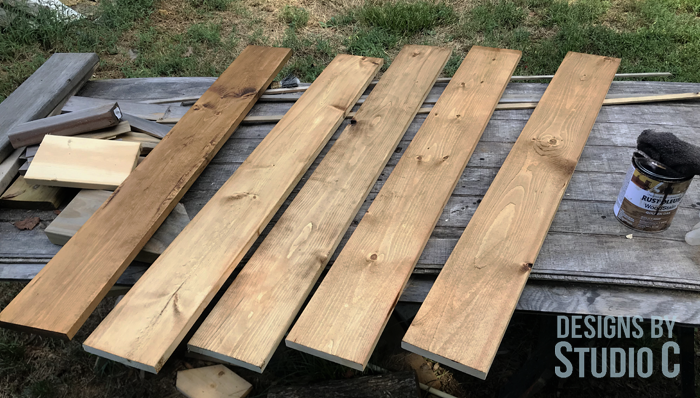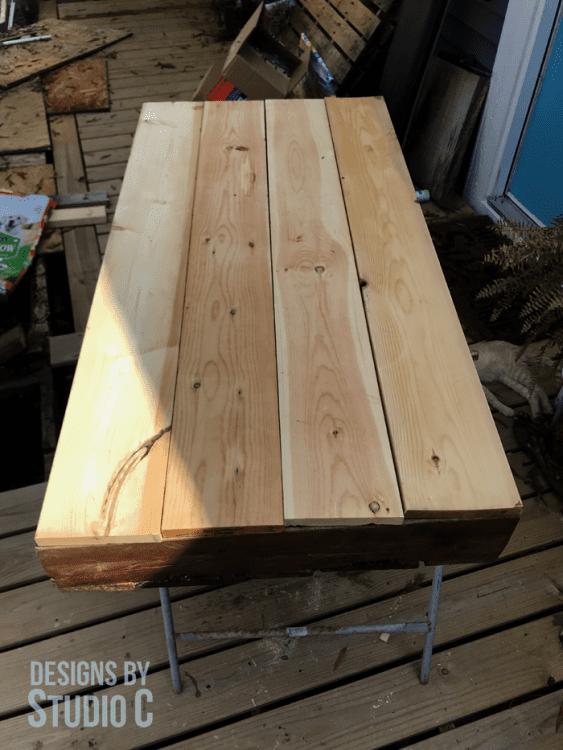 I stained the outside of the new boards, followed by two coats of sealer on the sides and top of the pallet.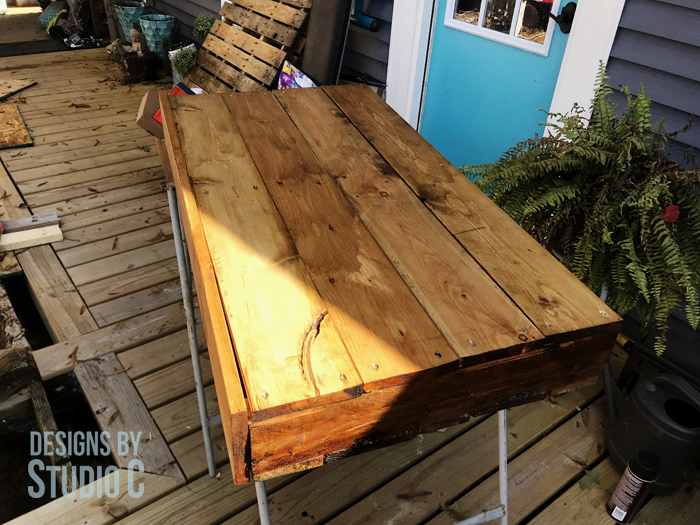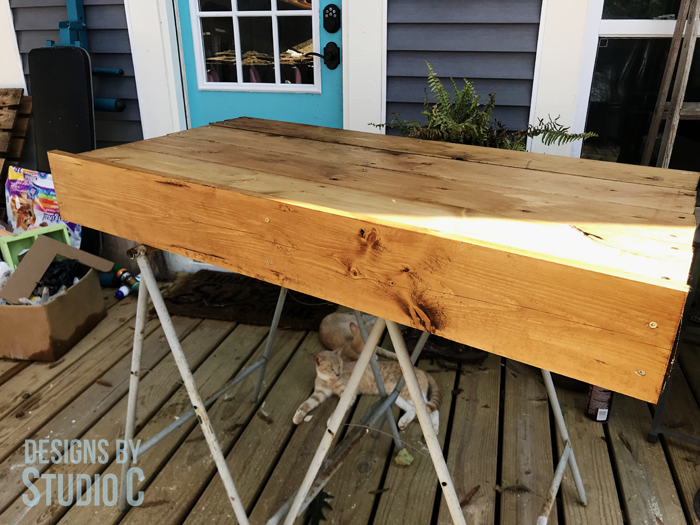 I mounted the hairpin legs (<– affiliate link!) to the bottom after spray-painting them with copper spray paint. They measure 12″ tall, and it was a lot cheaper to buy them in black, then paint them myself. I used longer screws (1-1/2″) where the leg bracket overlapped the thicker part of the pallet and 3/4″ screws where it didn't.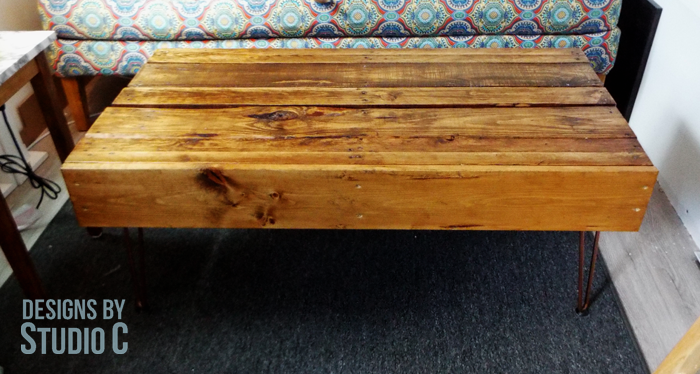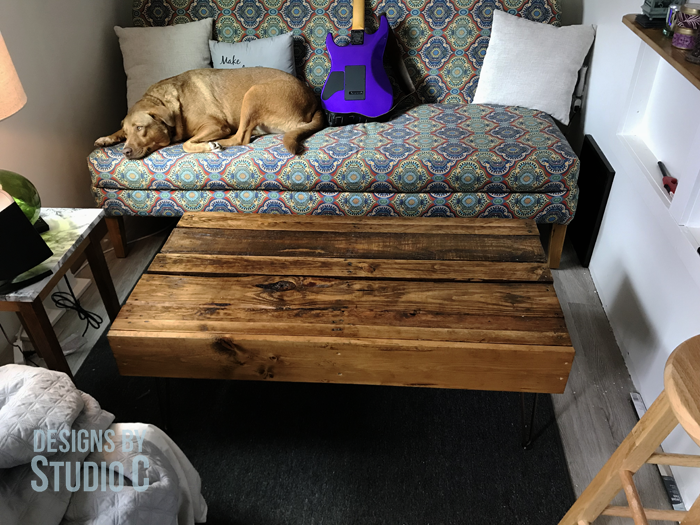 Like the look of the DIY pallet coffee table with storage? Stay tuned… I know that pallets like this one aren't just laying around so I also created a furniture plan to build a pallet coffee table without a pallet (<– link!) like it that can be distressed and stained as desired!