How to Sew Bolster Pillows
Easy to Make DIY Bolster Pillows
I was actually going to use this fabric to cover an ottoman but my plans were changed by the tree falling on the house. I thought the fabric would make great bolster pillows for the new sofa and since the sofa doesn't have arms, bolster pillows are the perfect solution for the sides of the sofa where it meets the walls. Unfortunately, the bolster forms are not as firm as I'd like them to be but I have a solution… Today, I will share how to sew bolster pillows that are firm and fill the fabric cover for a professional look!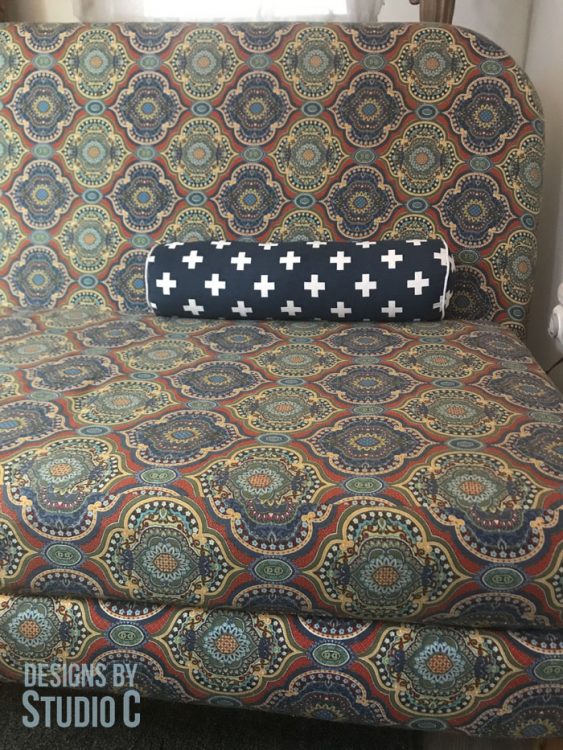 Many years ago, I worked in an alterations shop. I was a teenager and the head dressmaker was in her 70s at that time, and she taught me a lot of industry tips and tricks when sewing garments or home decor items. One of those tricks is with pillows… Her secret is to cut the fabric at the same size as the form (without adding seam allowances) so that the form fully fills the fabric without looking sloppy. Let me show you…
The bolster forms (<– affiliate link!) I used measured 6″ x 20″. I cut four circles of fabric at 6″ in diameter. I also cut two pieces of fabric for the body at 20″ x 20″. (The circle diameter x 3.14 = the circumference + 1″ for seam allowance: fancy math!)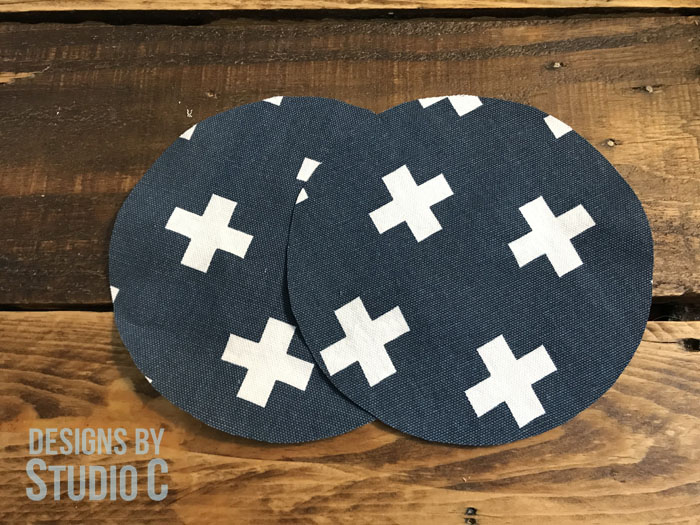 I started by pinning white piping along the edge of each of the circles. To close the ends of piping, cut it with a 1″ overlap. Use a seam ripper to remove the threads on the fabric covering the cord (where it overlaps), then cut the cord so that the end meets the beginning. Fold the fabric over about 1/2″, then fold over the beginning of the piping and sew it in place using a zipper foot.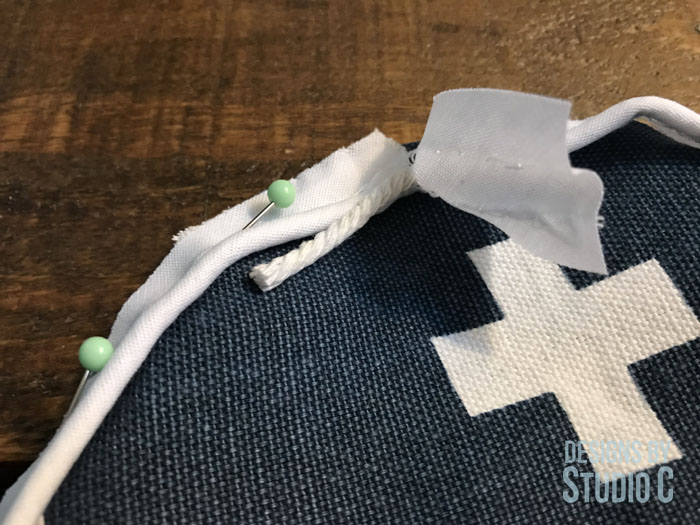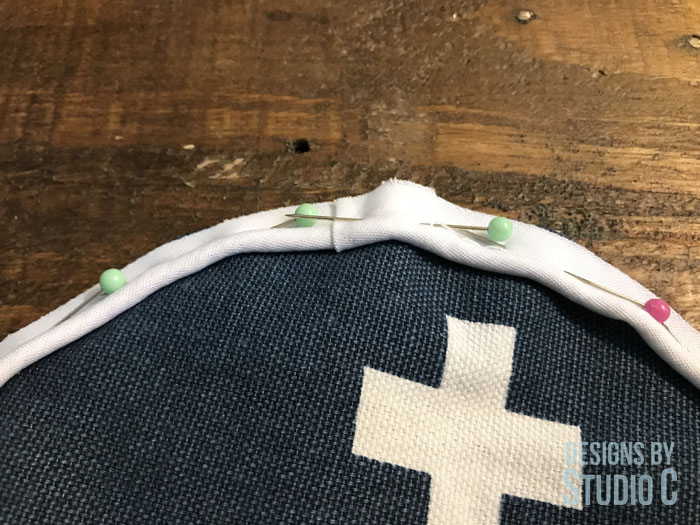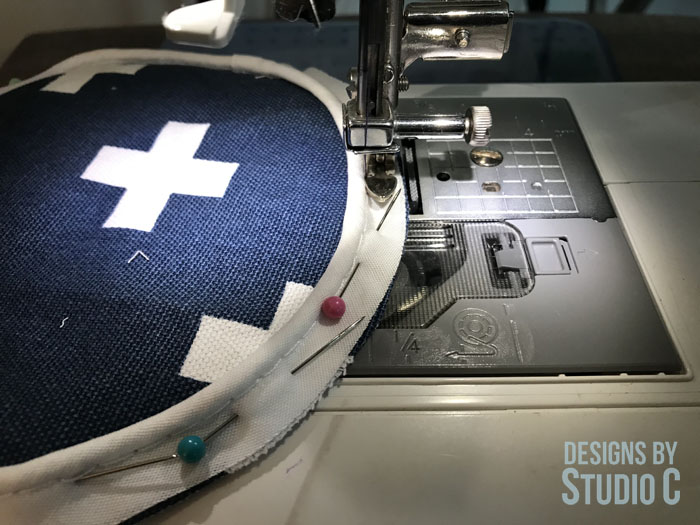 Next, I pressed a 1/2″ hem in two long edges of the fabric for the body which will be the center seam. I pinned the fabric around one of the circles over the piping, again sewing it in place with a zipper foot. Then repeat for the other end.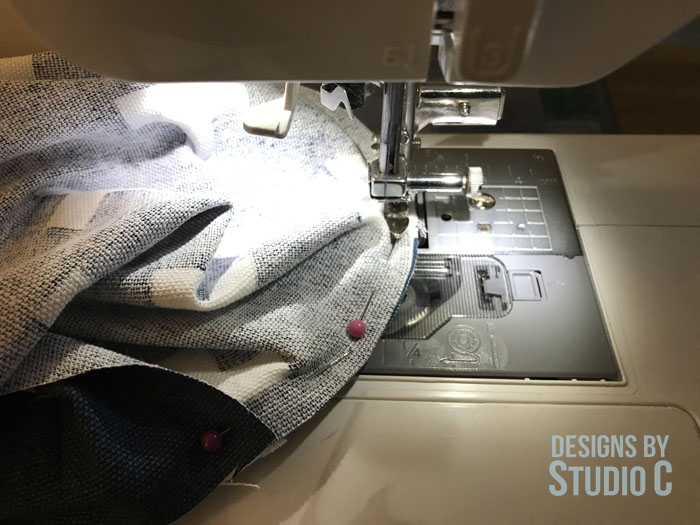 I placed the form inside the cover, adjusted it as it needed to be, then sewed the seam closed by hand.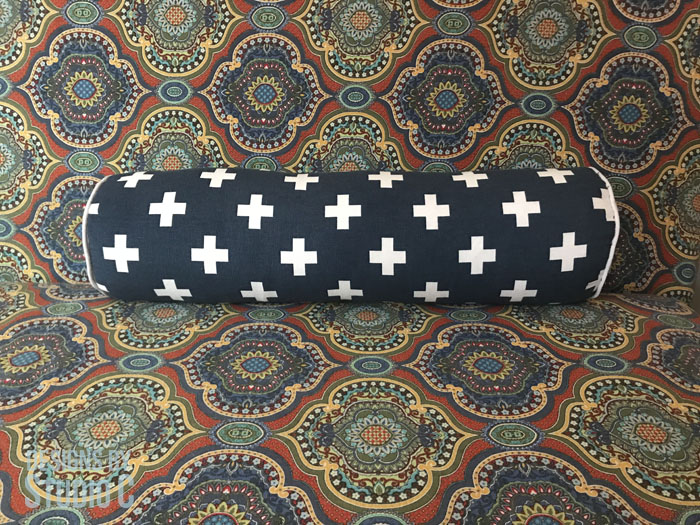 The bolster pillows are so easy to make, I had both completed within an hour! Have questions about how to sew bolster pillows? Leave a comment below!