Welcome to my SITS Day!! (Happy Valentine's Day!)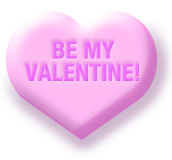 Not only is it a day for love but it is also my SITS day!! What is SITS, you ask? It's a community (40,000 strong) full of support and love, and lots of ways to grow your blog. I stumbled upon this community last spring and have loved every second of it. I've met some interesting people and have read a lot of fascinating blogs! Each day, one blogger is featured and gets have their turn in the spotlight.

Today is my day to be featured – yay! I am so excited, can't you tell? Welcome to the SITS community… Sit back, take a look around (who knows, you may find something you'd like to build or create!) and I know this is totally out of my normal realm but enjoy a recipe for a Caramel or Peppermint Mocha!
My daughter and I are in *L.O.V.E.* with the Caramel Mocha that is served at McDonald's. I am equally enthralled with the Peppermint Mocha which is only available around Christmas time (darn!). Since we love them so much, we thought we'd create our own recipe to make these delicious mochas at home! So enjoy!
What you need:
Hot Coffee

2 tsp. Caramel or Peppermint Latte (we use Maxwell House International Coffee)

One packet of sweetener or a teaspoon of Truvia

Fat Free Milk

Whipped Cream, if desired
Fill the cup about half way with coffee, add the latte and sweetener then stir to mix. Fill the cup to the top with milk. Whipped cream is totally optional… Swoon! 
Thanks again for stopping by and I hope you find something you like!
Until next time,
Happy Creating!