Spray Paint Transformations…
Aaah, spray paint… I truly love it. What other product is there that is inexpensive, comes in a variety of colors/finishes, and can transform virtually anything it coats? I do have my favorites (I am a frequent stalker on Rust-Oleum's Facebook page!) and have quite a collection of cans in every color imaginable!
To me, nothing is safe from a can of spray paint! I gave my Buddha fountain a makeover using Rust-Oleum's Multicolor Texture in Mixed Browns.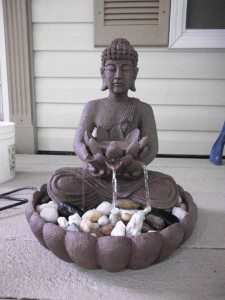 This one got the same makeover!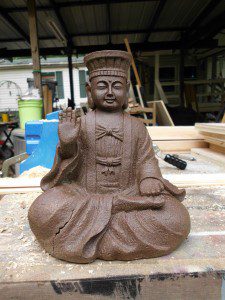 I painted my outdoor clock/temperature gauge with Rust-Oleum's Metallic in Antique Brass.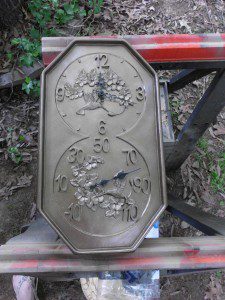 I used Krylon's Fusion for Plastic in Satin Khaki on my shutters, door trim, and screen door. What a difference!
I painted this military ammunition box with Krylon's Metallic in Matte Aluminum to store cat food in so I can leave it outdoors. Now I don't have to worry about the possums and raccoons getting into it!
I wanted new light fixtures for my bathroom. I found some in Oil Rubbed Bronze that would cost me $200 for four! I found the exact same style fixtures, in brass (on the same website), and they only cost me $60 for all four.I primed and painted the fixtures (Krylon's Metallic in Sparkling Canyon). The cost of a can of spray paint was well worth the savings!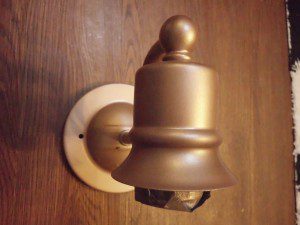 Other things I've done with spray paint –
Change the color of hardware including drawer handles, hinges, knobs
Transform thrift store finds into stunning accents
Update outdoor resin statues
Changed the color of flower pots and hooks
Painted ceiling fans (stay tuned for a post on that!)
The possibilities are endless! Give it a try… Once you see the rainbow of colors and finishes, you'll be hooked!
Until next time,
Happy Creating!
Originally posted 2012-05-22 08:00:25.