Hearing Protection and the new Rod Stewart Album
I am going to confess something to you… I do not wear hearing protection like I should. Yep, its true. I even have a pair of super-cool hearing protection headphones I can connect to my iPod so I can rock out while protecting myself. I really, really need to be utilizing those headphones but I think I am kind of bored with the selection of music on my iPod.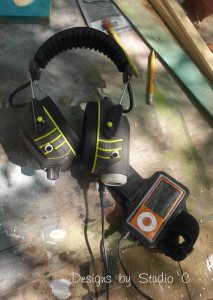 So while I'm on my new mission to protect myself, I also have the opportunity to review the new Rod Stewart album, "Time". I have always been a fan of "Rockin' Rod" who over his years as a performer has released 27 studio albums! "Time" is his first new album in 20 years and marks his return to his songwriting roots.
My favorite song on the album is "She Makes Me Happy", an upbeat song with catchy lyrics that also happens to be the first single from the album! Several other songs on the album stand out to me such as "Finest Woman" and "Picture in a Frame". Like any fine wine, Rod has certainly mellowed with time. "Time" is heartfelt and rockin' at the same time, the same way "You Wear It Well" or "You're In My Heart" were back in the day! I think I am truly going to enjoy listening to this album for a long time!
Want to check it out? iTunes has the deluxe version of Time with three bonus tracks for $14.99!
Hope you enjoy it as much as I do!
Until next time,
Happy Creating!
 I participated in this campaign for One2One Network. I received a free copy of the CD to facilitate my review. By posting, I am eligible for incentives. All opinions stated are my own.