Projects Using New Folk Art Multi-Surface Paint
Used on a Variety of Surfaces, This Folk Art Multi-Surface Paint Is Awesome!
I was so excited to be selected to try out Folk Art Multi-Surface paint along with a few Handmade Charlotte stencils, and Folk Art Chalk Anything Multi-Surface Coating! Honestly, this is the coolest new craft paint… Not only can it be used on wood, glass, plastic, and fabric (as well as a few other surfaces), it is also weather resistant, machine washable, and dishwasher (top rack) safe! How awesome is that? So in order to test it out, I created a new project as well as tested it on another existing project.
First, I created a pillow for my daughter using the black Multi-Surface paint, the Chalk Anything coating, and the Speech Bubble stencils by Handmade Charlotte, along with a piece of a canvas drop cloth.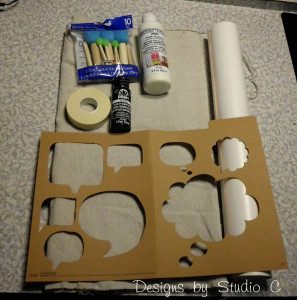 I applied a piece of Contact paper to the back of the fabric to give a bit of stability as well as keep any paint from seeping through.
I positioned the stencil and secured it in place with masking tape. Using a sponge spouncer, I applied the black paint and let it dry. I then applied two coats of the chalk coating according to the directions on the bottle. Once everything was dry, I flipped the stencil over and painted a second speech bubble so it looks like a "conversation"!
I let it sit 24 hours, then cured the chalkboard surface with a piece of chalk.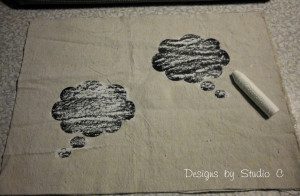 I cut the fabric down to size for the pillow, then stitched everything together. I inserted the pillow form (which I also made) then sewed the cover closed. Voila! A quick, easy project for a tween or teen!
The next surface I tested the paint on was the Pet Food Station I posted a few weeks ago. Pokey, our sweet dog, decided his table needed to be personalized so I used one of the Handmade Charlotte Banner stencils and stenciled his name on the table. I guess my placement needs a little help but the E looks sort of cute like that!
This paint is so fabulous! I like the fact that it covers so well – even the white over the red did not look milky. I only used one coat of each color in each project and I am thoroughly impressed! I cannot wait to try it on other surfaces. Want to try it for yourself? The paint is currently available at Michaels. 
Follow Folk Art (by Plaid) on Facebook, Twitter, and Pinterest, or follow the blog!
Disclosure: I have partnered with The Blueprint Social to bring you this post about Folk Art Multi-Surface paint and Handmade Charlotte stencils. I received the product to try but the projects and opinions are strictly my own.