Color Cards and My 5 Favorite Paint Shades
Color Cards and My 5 Favorite Paint Shades
I have more paint color cards than you can shake a stick at. Seriously. This is what I found in my purse…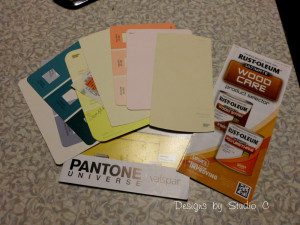 This is the pile in my desk drawer…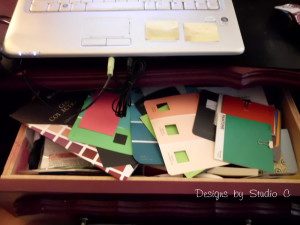 This is the pile in the cubby of my other desk… (Yes, I have two desks – don't ask.)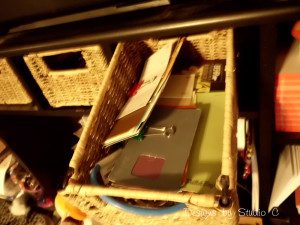 Do I need that many color cards? Of course not but when I find a color I like, I make sure I snag a card because color cards rotate so quickly! Today, I will share a list of my 5 favorite paint shades (although I threw in a shade of stain, also!!).
1. Delicate Lace by Behr – I learned about this color from my friend Bonnie at Revolutionaries blog. She was looking for the perfect shade of white for a project and settled on this color. I took her suggestion and ran with it – I've used it on my Console TV Cabinet as well as my Side Table Using Door Parts. (The photo sample looks pink but it is really a rich off-white!)
2. Cracked Pepper by Behr – I think this is the most awesome shade of dark grey! I have always been a fan of grey and to me, this one is perfect! I used it on the Console Stereo Liquor Cabinet.
3. Lagoon by Rust-Oleum (spray paint) – Yep, I'm a sucker for that blue whether it is on a sewing machine case, a mailbox, or an upcoming project I cannot speak about (that's for next week), that color makes me swoon!
4. Kona by Rust-Oleum (stain) – I'm also a sucker for that rich, dark brown! It is the main color of my Rustic Table as well as my Boulangerie Table!!
5. ANY of the new Valspar Pantone Shades – I just bought a truckload of Valspar samples in the Pantone shades. I L.O.V.E. the saturated colors and have several projects brewing using those colors. Remember the Headboard Bench? Yep, the color is Pantone Emerald by Valspar!
So there you have it… If there were more time, I would go through my color cards and pick out more but I won't bore you with that!
What are some of your favorite shades to use on projects?
Until next time,
Happy Creating!!
*** Just for the record, I am NOT affiliated with any of these companies. I have NOT been asked to write about them nor have I been compensated. I am just a huge stalker fan!! ***
#DIY #woodworking #build