A Review of the Court Yard Hounds Album – Amelita
A Review of the Court Yard Hounds Album – Amelita
I've mentioned before that I really like wearing my headphones and listening to music while creating projects that (hopefully!!) you enjoy… While the headphones protect my hearing from loud power tools, it also give me an opportunity to review new music.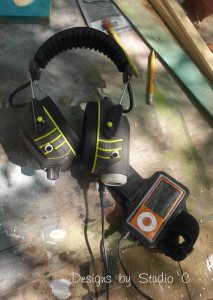 I have recently participated in an album review of Amelita by Court Yard Hounds. Who arethe Court Yard Hounds? They are none other than sisters Martie Maguire and Emily Robison of the Dixie Chicks. After a few years away from the limelight and the Dixie Chicks, the two sisters were ready to get back into the studio with the creation of Court Yard Hounds. Amelita, out now, marks the Court Yard Hounds' second album. 
The Court Yard Hounds' new album is a clear statement of who the girls are as artists, defining their sound as a band, with soaring songs that are personal, yet familiar and widely relatable. The album is a little bit country and a little bit rock 'n roll plus a whole lot of fun! It has a lot of energy and has quickly become one of my favorites! I was rockin' it big time while sanding a few boards. I must have looked crazy but was thoroughly enjoying myself!
Containing 11 new tracks, Robison and Maguire took a different approach with Amelita than their debut album in 2010. This album contains a new perspective, which is due in part to time passed since Robison's divorce. "I've been freed of all of those time-heals-everything kind of things," says Robison. "Now, I've opened up to other ideas and ways of looking at life and the world. I think it's not only a more hopeful album, but it's more… well fun."
Check it out for yourself – you won't be disappointed! The album can be purchased through iTunes or Amazon.
Follow Court Yard Hounds on Twitter or Facebook, or follow Marti Maguire on Twitter or Emily Robison on Twitter.
 Until next time,
Happy Creating!
#CYHAmelita
I participated in this campaign for One2One Network. I received a free copy of the CD to facilitate my review. By posting, I am eligible for incentives. All opinions stated are my own.