A Bath Faucet That Is Spot and Fingerprint Resistant? Yes, Please!!
This post brought to you by Moen, Incorporated. All opinions are 100% mine.
I've spent a lot of time in the past remodeling both bathrooms in my house. I love being able to show off all of my handiwork  including new tub, new toilet, new sink, and the new faucet.  That is – until I see the fingerprints and spots on my faucets! No matter how hard I try to clean the faucets, the spots and fingerprints reappear virtually out of nowhere! Ugh!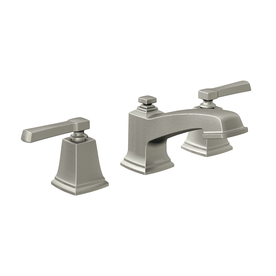 I like to consider my style to be "classically funky", so if I am going to shop for a faucet to meet my needs, it has to match my existing style (especially since spots and fingerprints do not fit into any style at all)! Plus, since I am Green Advantage Certified in both commercial and residential building, it would make sense for me to find a faucet that would use less water. Enter the Moen Boardwalk Spot Resist bath faucet..
Not only is ts the "clasically funky" style that I like but it is spot and fingerprint resistant! How awesome is that? No more keeping the fingers crossed and hoping the houseguests won't think I didn't take the time to clean! The best part about this faucet is that it is WaterSense compliant meaning it will use up to 32% less water without sacrificing performance. Can I get a yahoo for that?
This beauty is available at Lowe's along with all sorts of matching accessories to complete my "clasically funky" style that I love so much!
Follow Moen on Facebook and Twitter (@Moen).