Here are plans to build a bookcase… Hope you enjoy them!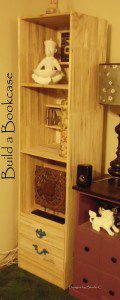 Materials:
Four – 21/32″ x 16″ x 72″ – Paint Grade Pine Panels
Two – 1x3x8′ – Pine Boards
One sheet of 1/4″ Plywood
Additional Materials:
Two sets of 14″ drawer slides
Two drawer pulls or knobs
Optional wallpaper for back
Tools:
Kreg jig with 1-1/4″ pocket holes OR Brad nailer with 1-1/4″ brad nails
Wood glue
Drill
Finishing Supplies
Cut List:
Two – 16″ x 72″ for the Sides
Five – 5-1/4″ x 16-3/4″ for the Smaller Shelves
Five – 16″ x 16-3/4″ for the Larger Shelves
One – 5-1/4″ x 16-3/4″ for the Kick Plate
Two – 5-1/4″ x 16-1/4″ – Drawer Fronts
Four – 1×3 at 12-1/2″ – Drawer Boxes
Four – 1×3 at 15-3/4″ – Drawer Boxes
One – 1/4″ x 18″ x 72″ – Back
Click on the pictures to enlarge them!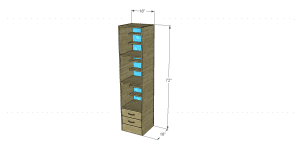 Draw placement lines on two of the panels for the shelves. Cut the pieces for the shelves, drawer fronts, kick plate, and drawer boxes.
Attach the shelves to the sides using glue and 1-1/4″ brad nails.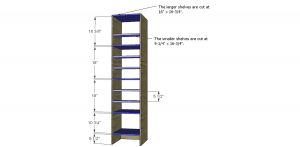 Attach the kick plate to the front under the lower shelf.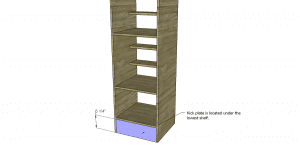 Cut the back piece and cover with wallpaper, if desired, or paint then attach to the back of the bookcase with 1-1/4″ brad nails.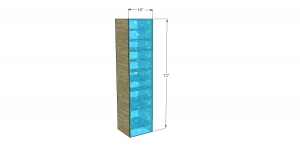 Build the drawer boxes and attach the 1/4″ material to the bottom. Attach the drawer slide hardware to the drawers and cabinet (for a tutorial, see the post HERE).  Install the drawers and make any necessary adjustments.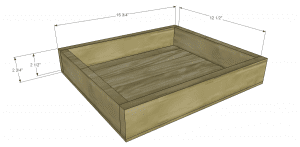 Install the drawer fronts (for another tutorial, see HERE) and attach the drawer hardware.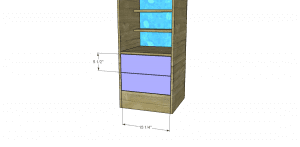 Let me know if you have any questions!
Until next time,
Happy Creating!
** Please note – these plans are designed and created by me. They are not to be sold without express written consent from me. They can be shared on any site as long as they are credited back to me!